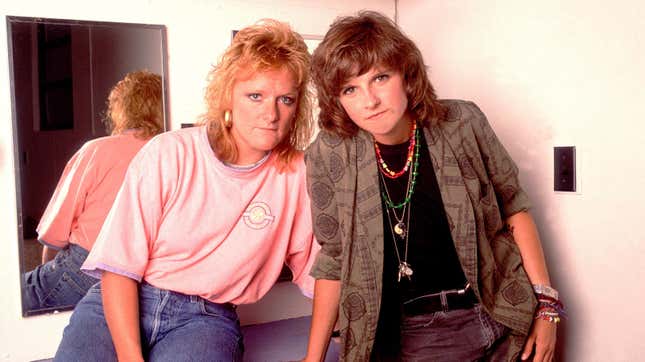 In May, when the first trailer for Barbie ignited a discourse so frenzied it could flatten a doll's feet, the inclusion of a singular song surprised people. The trailer shows Barbie, plagued by existential dread, seeking the counsel of a scribbled-on sage, who offers her two options: "You can go back to your regular life," the sage says, presenting her with a pink pump. "Or you can know the truth about the universe," she counters with the display of a Birkenstock. Begrudgingly, Barbie chooses the latter, and off she goes, belting the chorus of "Closer to Fine," the 1989 hit by the Indigo Girls about being kinder to yourself, from her convertible. Her destination: enlightenment.

"Birkenstocks and Indigo Girls? Barbie is a lesbian," Dazed theorized in response. Other articles also made note of the cameo from the folk rock duo, as if the paradigm of heteronormative playthings couldn't possibly know the music of preeminent queer singer-songwriters. Maybe the duo's inclusion was just a cosmic coincidence, or long-awaited confirmation of those scissoring rumors. More likely, it was a wink at the three and a half decades Amy Ray and Emily Saliers spent crafting the perfect roadtrip soundtrack for anyone's pursuit of a little insight between black and white.
It's Only Life After All, a new documentary about Ray and Saliers' evolution from two queer kids in Georgia to Grammy-award-winning musicians and LGBTQ+ icons, makes each and every pitstop along the way.
"The thing that really inspired a lot of that initially was to just show the growth of them as individuals and what they have been through and also to illustrate like, we're the same as we always are," the documentary's director, Alexandria Bombach (On Her Shoulders), told Jezebel over Zoom. In revisiting each early performance in a decrepit dive, tender exchange between Ray and Saliers caught on a crackly tape, or interview that inevitably steered into speculation on their sexuality, we get a series of striking reminders not just of what they've achieved or how ahead of their time they were—but also, a testament to all of the ways they've aged with those that love them. And though it's yet to find a distributor, It's Only Life After All was praised by critics at Sundance, SXSW, and most recently, the Tribeca Film Festival.
Toggling between the past and present, It's Only Life After All begins and ends with Ray and Saliers' ruminations on their relationships with each other—both as musical partners and longtime friends—but with themselves and their legacy, too. It's to the documentary's benefit that the Indigo Girls were exhaustive documentarians at the outset of their career, especially Ray, whose collection of recordings, VHS tapes, photographs, and the like are used throughout. "We're documenting for our futures," she narrates one video, as another sees Saliers goofing around in a recording studio.
"It was a delight to look through [archival film and Ray's collection] and also to match together moments where they're looking in the same direction, or looking the same as footage from when they were in high school…to match movements to invoke ideas of memory, but mostly growth," Bombach said. "[Ray and Saliers] speak so wonderfully about growth in a universal way, where we can all reflect on who we used to be—from Amy's anger to like, Emily's dealings with being queer. It's nice to reflect that even these people that are such icons and looked up to so much had a lot to go through in life, you know? Ups and downs."
There were many of those: coming of age together (and apart) in the South, struggling to find their sound and the proper stage for it, defining their gender and sexual identities in an industry that often reduced them to homophobic stereotypes. Or worse: "a lesbian duo." National acclaim for the Indigo Girls presented its own host of problems, perhaps best reflected in a concert review from the New York Times' Jon Parelas in 1989. It begins: "Earnest pretentiousness has new standard-bearers - the Indigo Girls, Emily Saliers and Amy Ray, who performed on Thursday night at Town Hall. Their music revives the strummed acoustic guitars and close harmonies of early-1970's arty confessional songwriters, and their lyrics push obscurity and preciousness toward hyperbole." It's not a dumb typo in the review's fourth paragraph that Ray and Saliers remember. It's Parelas' glaring misogyny and commitment to cutting them down to two overwrought girls with guitars and too many feelings that continues to piss them off.
It wasn't just critics who made the Indigo Girls the butt of the joke. The documentary later charts the laughs much of pop culture (Saturday Night Live, Ellen Degeneres' sitcom, etc.) had at their expense and how they left marks, given many of the punchlines depended not on the Indigo Girls' artistry but on their identity. Many journalists of the late-'80s and early-'90, too, seemed to find it unfathomable that two queer women in the same band weren't dating, or at least, hadn't at some point in their career. In each such interview, their answer was a resounding no, their expressions reminiscent of bored teenagers fielding intrusive questions from their parents. It's unfortunate that the media machine never quite knew what to do with Ray and Saliers, despite the fact that their music and later, their dedication to boots-on-the-ground activism, were always interesting regardless of their personal lives or how they presented.
"People kind of thought of us as…I don't know, is there a category that's 'lesbian Christian folk?'" Ray asks the camera at one point, holding up an early photoshoot the Indigo Girls did for Rolling Stone. In one photograph, the pair is posed in robes in water as if they're being baptized, their hands folded and raised in mock-exultation. It's hysterical in an eye-roll sort of way.
Both Ray and Saliers' grappling with who they are as people, internalized homophobia and all, throughout the years is painful to watch but important, too. But they've reached resolve and achieved a language for who they are in the present day. Ray is refreshingly candid about gender dysphoria and identifies herself as "half and half," or non-binary, while Saliers makes plain a physical attraction to men despite being married to a woman. Their queerness is just another example of their evolution as artists capable of connecting with younger generations.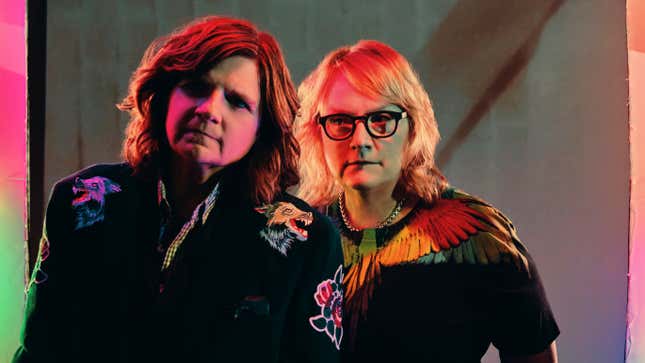 "I love that in this film, they're able to be fully individual, but also that they're able to fully express all the ways people have put them in boxes—even in ways that are not typically what we would think of as bad. Like, the queer community put them in the box. But they're even growing out of those boxes, which is incredible," Bombach said. "Being a part of that very current-day conversation just shows how incredible they are as people, and that they're not stuck. People from that generation can be very stuck in their ideas of queerness and of being gay and lesbian."

As Ray and Saliers articulate in the documentary, they had one concern about telling their story for the camera: That it wouldn't just be about them. So, Bombach sought testimony from fans of varying races, genders, and ages at some of their shows. All were eager to share what all the Indigo Girls got them through: addiction, grief, divorce, depression, and all of life's other heartbreaks. The duo's legacy, It's Only Life After All argues, isn't any one song or material marker of success, but rather the grace they've extended to listeners—even Barbie—on whatever journey they're on.
Earlier this month, Ray and Saliers surprised audiences with a performance at the Tribeca Film Festival. Between songs, Saliers told the audience how they've touched their lives. "You've touched our lives," a member of the crowd answered. Ray and Salier smiled and started onto the next song, "Kid Fears."