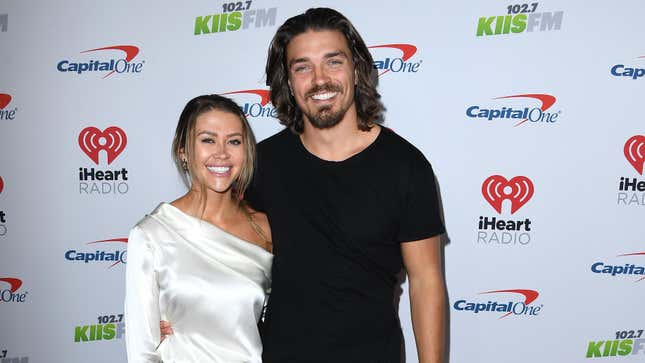 In the latest installment of Bachelor alums Dean Unglert and Caelynn Miller-Keyes' storied and, err, eccentric romance, we have something that was not on my Bingo square: Unglert divulged that he'd like to impregnate fiancée Miller-Keyes with his brother's sperm. Some more context, you ask? On this week's episode of their podcast Help! We Suck at Being Newlyweds, Unglert revealed his ongoing theory that he's actually "sterile."

"I still have a little inkling inside of me that thinks I am," he said. Miller-Keyes reminded her partner that his sperm was fine when he got it tested eight years ago and noted that the couple is open to adoption, too, should they face reproductive challenges. That's when Unglert, whose brain appears to be constantly spinning up new plots and schemes around human biology, chimed in to bring up his brother's sperm: "I was thinking I could take—and this is kind of weird to say now that it's attached to a person—but that we could take one of my brothers' [donations]," he pitched. Cool!
According to Unglert, this has "always been my plan for if I'm sterile," because, he notes, his brother's "DNA is close to mine." Insemination would be ideal, but he also would be fine with Miller-Keyes "just going into the room for 30 minutes and, you know," with the Unglert brother of her choice—a proposal she roundly rejected.
Having followed this couple for some time since their meet-cute on the 2019 season of Bachelor in Paradise, I'm hardly surprised by his casual public remarks about this. This is a couple that's spent summers traveling the country living out of Unglert's van. Their whole brand is Adventurous™, a driving source of their continued, post-Bachelor success as influencers—and part of the adventure, apparently, is being very open about their reproductive lives.
Last month, Miller-Keyes said on the podcast that Unglert was determined to get a vasectomy to help her transition off birth control, which has left her with undesirable side effects. She said at the time, "He doesn't think it's fair that a woman has to take birth control. So then when we're ready to have kids, he would un-snip himself and we would have children."
That's actually quite thoughtful of him! Everyone has different experiences with different forms of birth control, and some people have sadly reported some pretty bleak, disruptive side effects, raising fundamental questions about why the responsibility is placed squarely on the pregnant person's shoulders in the first place.
Ultimately, one thing you can count on Dean and Caelynn to do is start a ~dialogue~ and raise some fundamental questions—like, whether your partner would get a vasectomy so you could go off birth control. Or whether you would fuck his brothers to have babies that share some DNA with him! Now that should be the next topic of discussion on The View.