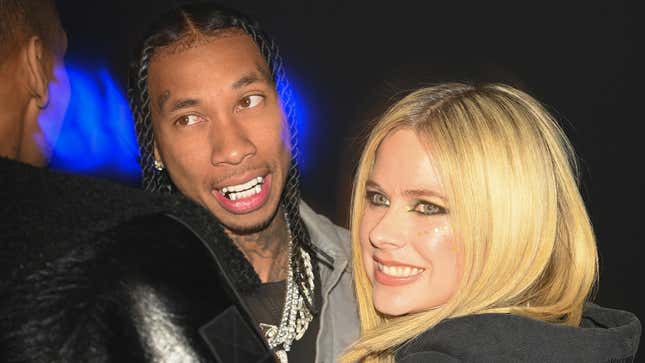 Well, it happened. Two people who were rumored to be dating are now confirmed...kissing. Canadian singer Avril Lavigne, who brought that scowls-in-a-mall-but-is-too-timid-for-Hot Topic vibe to pop music in the early aughts, and Tyga, the bane of many people's existence and sometimes rapper, had recently been spotted together at Nobu and a party for Leonardo DiCaprio. Most recently—that is, Monday—they were holding hands and lip-locking in full view of attendees (and probably more importantly, cameras) at the Mugler X Hunter Schafer Party for Paris Fashion Week.
Zach Shallcross Struggles to Watch Himself 'Dancing Terribly' on 'The Bachelor'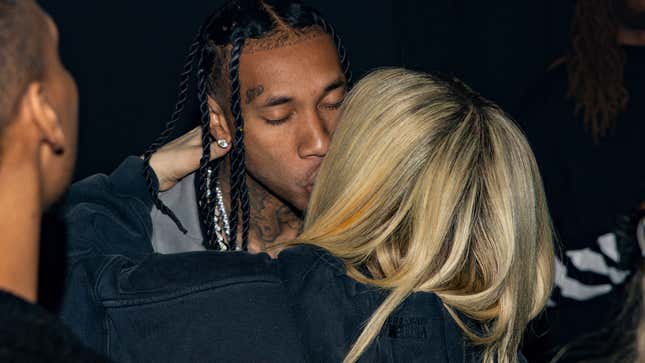 The tabs, naturally, love this. "Avril Lavigne and Tyga Kiss at Paris Fashion Week, Confirm Romance," reads TMZ's RSS feed headline. "Avril Lavigne and Tyga confirm relationship with a kiss," decided Page Six. In its reporting, that rag adds: "At one point, Tyga — who was notably wearing 'baggy clothes' — put one arm around Lavigne's neck and grabbed the bottom of her face with his other hand." That sounds awkward, but here's a picture of what Page Six was referring to: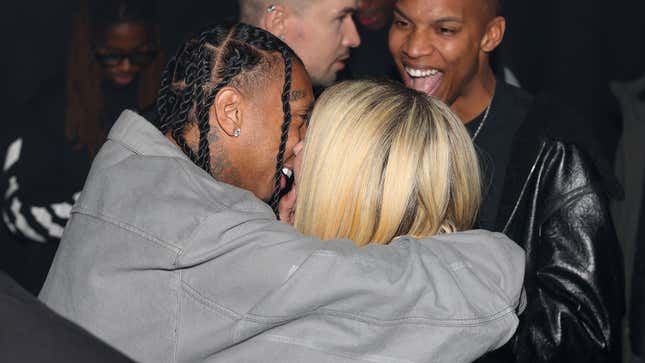 Yeah! Awkward! At least they look happy from behind. "Can they make it any more obvious?" you may be singing to yourself—maybe not even as a result of this news and just because "Sk8r Boi" has been in your head for the past 21 years. But through binoculars, I look at this stuff from my gay world and I think, "Couldn't they just be...fucking?" Don't straight people do that? "The smooching all but confirms a romantic relationship," reports TMZ breathlessly. Does it???
For some grounding, let's turn to PEOPLE, whose story about the PDA is a lot more moderate. The magazine's anonymous source says: "Tyga and Avril are getting to know each other. It's very new. It's very casual." Whew. Finally some sense in the world.
For background, Lavigne recently called off her engagement to Mod Sun, and Tyga is terrible, according to...us. (No really, he "started off as friends" with future ex Kylie Jenner when she was underage, and then there was another minor scandal involving him DMing a 14-year-old girl...but only because he wanted to sign her, we were assured.) Anyway, congrats to the unlikely pair who, at minimum, have accrued a lot of attention by being all over each other in public. Will it last? Who knows! Maybe they both like soup and talking or not talking, and neither has had a hit in years, so they can discuss what that's like, at least. Stay tuned for more from these crazy kids!
---