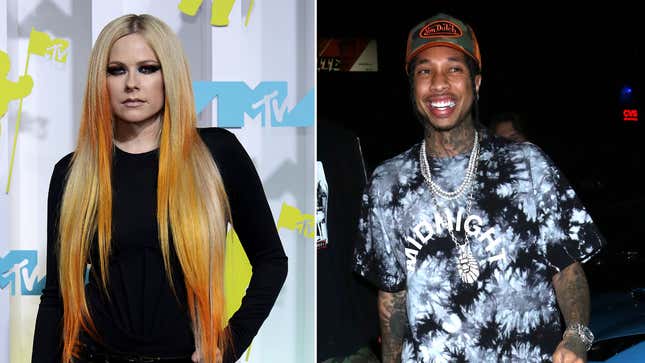 Within weeks of calling off her engagement to singer Mod Sun, Avril Lavigne has been spotted conspicuously moseying about town with Tyga of late, making very little effort to conceal what appears to be a budding romance. Or perhaps just a rebound—also fair!

First spotted embracing outside Nobu last month, Lavigne and Tyga have since taken their maybe-situationship international, spotted arriving together at Leonardo DiCaprio's party at a restaurant in Paris on Wednesday. The night before, they reportedly shared a "cozy" date night and have been spotted getting dinner and attending varying soirees, too. It all still seems very early, and I doubt they were partaking in a "define the relationship" chat at Leo's party. But something is definitely going on here, and… I am not anywhere near as surprised as I might have been if this happened a few years ago.
We're living through the era of the Celebrity Odd Couple™. That means, as unexpected as a 2000s emo princess and mid-tier rapper might have once been, Kim Kardashian and Pete Davidson (a PR grift?) have robbed me of my ability to be shocked by odd celebrity coupledom any longer. I barely blinked at Davidson's fling with Emily Ratajkowski, or, more recently, EmRata and Eric Andre.
G/O Media may get a commission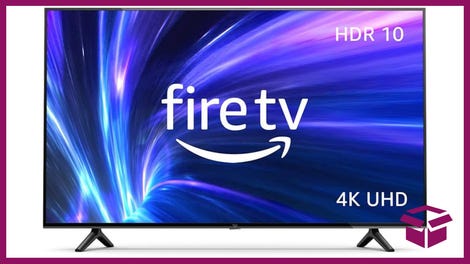 42% Off
Amazon Fire TV 50" 4K Smart TV
This isn't to say that seemingly mismatched or surprising celebrity couples are a new phenomenon—we live in a Society; we've seen Things. Whoopi Goldberg and Ted Danson dated in the early 1990s, prompting some, err, unfortunate photos. Angelina Jolie was briefly married to Billy Bob Thornton—names that don't even feel as if they belong in the same sentence, let alone next to each other on a marriage certificate.
I remember gagging when I learned a few years ago that conservative media personalities Laura Ingraham and Dinesh D'Souza dated decades ago in college, where they allegedly teamed up to out queer classmates. Maybe not that unexpected a duo, after all! Olivia Wilde and Harry Styles' hard launch—and their 10-year age difference, which people tend to take issue with when it's the woman who's older—nearly broke the internet in January 2021. And let's not forget Bill Hader dating Rachel Bilson, Anna Kendrick, and, just last year, Ali Wong. We are living through times so unprecedented that... it's pretty much all precedented now.
Still, I did not have Lavigne and Tyga—who, in my 2014 time capsule of a brain, is still dating Kylie Jenner—on my 2023 bingo board. But here we are! And here they are, schmoozing around Paris, dancing and fine-dining on the grave of her betrothal to a very emo Mod Sun. (Lavigne's ex, clearly going through it, wrote in an Instagram caption on Tuesday, "In 1 week my entire life completely changed. I just know there's a plan for it all. I'll keep my head up + always listen to my heart, even when it feels broken 💔.")
However different two very rich, famous people may be, being very rich and famous is itself a pretty big thing to have in common. The ability to jet-set, to dine at Nobu in Malibu one week and party across Paris the next, to sit courtside at a Knicks game for one date and then take it to the Cayman Islands the next, is a pretty easy starting point for connection. So, no celeb couple is ever really that surprising.
At the end of the day, we're all just people with different quirks, niche interests, and roots. The masses made a fucking fuss over Davidson and Ariana Grande's emergence in 2018, but some fans pointed out that a little lady hailing from the hot mess that is Boca Raton, Florida, was cosmically destined to someday partner up with a gent from Staten Island. We know that Lavigne likes to sing and Tyga likes to rap, and both are famous and have a lot of money—maybe that's all it takes.