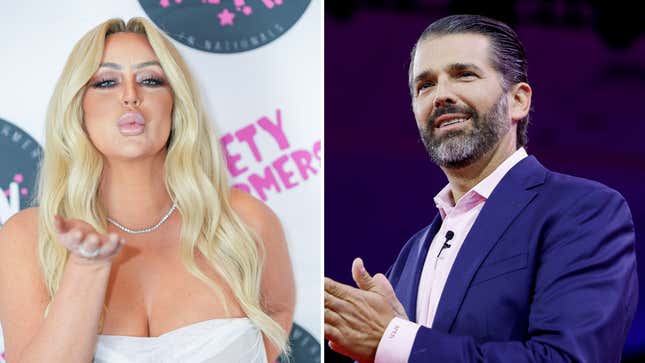 Today in news you cannot use and also maybe didn't want to know: Singer Aubrey O'Day has revealed that the first time she had sex with Donald Trump, Jr., the married man she once called a "soulmate," was in a gay club bathroom in 2011.
"I was hosting a gay club, and our first time going out together — he wanted to see me so bad, and I was like, 'Well, I'm going to be at a gay club tonight,'" O'Day told former Trump fixer Michael Cohen on his podcast (wow, a cursed string of words) Mea Culpa on Monday.
O'Day and Trump Jr. first met on the set of Season 5 of Celebrity Apprentice in 2011 while he was still married to Vanessa, the mother of his 5 kids, and started their affair shortly after. The affair was first revealed in 2018, but it wasn't until right now that we knew where...specifically...this all began, which, again, was a bathroom of a gay club.
The singer, best known for her time in Danity Kane, was hosting "one of the biggest gay parties in New York" on the night in 2011 when former president Trump's large adult son first wanted to see her post-show. "It's a huge fucking club, and everybody's in a g-string or less," O'Day told Cohen. "I was just, in my soul, like, 'There is no way the man that I've seen suited-up for the past couple months is going to show up to see me in this lovely land that I get to be in,' and he did."

And apparently, Trump Jr.'s recent turn toward hating the LGBTQ community is new. He was "totally chill and nice with everybody" at the gay party, O'Day said. "I thought to myself, 'Man, you were super comfortable in that gay club' — in fact, so comfortable that we ended up going to the bathroom and, for the first time, had sex in a gay club bathroom."
Perhaps the worst thing I learned from this whole interview is the nickname Trump Jr. bestowed upon O'Day in the loo that fateful evening: Spanky. "I had Spanx going from, like, my throat down to my knees because I was suited up for some press or whatever we were doing that day, and I wanted to be extra tight and skinny," O'Day said. "He could not get these things off for the life of him, and so we literally found a way to work around them. And for the rest of our relationship, he called me 'Spanky' because of these Spanx — that otherwise would be one of the most humiliating stories ever, but it was very him and I." A lid for every pot, I guess.
Sadly, the couple was not long for this world. In 2012, Vanessa found "sexy texts" from O'Day while her husband showered, and the young Trumps eventually announced their divorce in March 2018. Shortly after that announcement, Trump Jr. started dating California Gov. Gavin Newsom's (D) orange ex-wife, Kimberly Guilfoyle.
Tragically, O'Day, still calls Trump Jr. her "soulmate" despite all this. "I love him. Love, loved, love," she told Page Six. "I'll always have love for him." At least someone will? I don't know, I hate this.