Let it be known that 2017 will not be remembered as the "year of the Great Clench," as implied by a well-intentioned (?) but ultimately irritating response to a question about the visibility of the butthole during doggy-style sex.

Jezebel's independent investigation of Chrissy Teigen's central question—whether or not her husband, John Legend, can see her butthole when they're doin' it doggy-style—was born not out of shame, but out of a misunderstanding of, and curiosity about, our basic human anatomy. Yet Nick Leftley's piece for Mel Magazine, "Yes Ladies, We've Seen Your Butthole and That's Okay" pre-supposes shame while assuring "women around the world" that hey, even if men can see your butthole, it's okay, they love you anyway.
Listen up: we don't give a shit if you can see our buttholes, because that's not with this is about.
Leftley's initial assertion—that you can of course see the butthole during doggy-style sex—had already been confirmed by the various men we consulted. The men in question did not assume that we were asking because of a deep-seated shame about our own bodies!! It is in this assumption where Leftley's analysis of the situation goes woefully wrong:
When we have sex, we like to think that above all else, we're fucking sexy. That our partners are seeing something that turns them on, that our bodies are a big part of what's driving them crazy. To discover that a body part you've never even factored into this equation is actually front and center may be discomfiting, to say the least. For some, it may even shatter the illusion of their own sexiness, or present their sexuality in a way they hadn't intended, to the degree that they don't want to (unwittingly) display themselves this way ever again.
But for those people, here's the important thing to remember: Yes, we can see your butthole — and we like it.
G/O Media may get a commission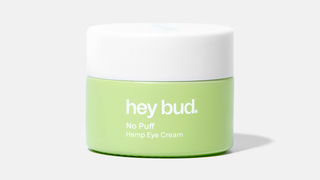 15% off
Hey Bud - No Puff Hemp Eye Cream
To be frank—I don't care if someone does or does not like my butthole. I don't care if someone can see it during sex. I'll admit curiosity as to whether or not they can see it, which was the point of the question to begin with. To assure the "women around the world" that hey, men love every part of you including your butthole is unnecessary and entirely unwarranted. Kindly, sir, no one asked you!!