On Wednesday, Marie Claire published an interview with the always-outspoken and effervescently candid Chrissy Teigen, during which she shared that there's one part of her body that she thought her husband, John Legend, has never seen.

It's not her uvula, or her inner ear canal, or the space between her third and her second toe. It's her butthole. Chrissy Teigen thought John Legend had never seen her butthole.
"John and I had a double date, and we were joking around, and I go, 'John's never seen my butthole.' And John says, 'Are you kidding? Every time anyone does anything doggy style, you see a butthole. I see it every time.' I was like, 'We are never doing it doggy style again.'"
As Teigen and Legend are husband and wife, it would maybe make sense that he had seen her butthole, but honestly, Legend's explanation raised more questions than it answered.

Namely; how visible is the butthole? By nature, your butthole is private; it's hidden within the cheeks and would really only be visible in intimate situations. A casual search of various anatomical diagrams led me to the conclusion that it is not a vast chasm — a myth perpetuated by a certain viral internet photo that does not need to be mentioned by name.
G/O Media may get a commission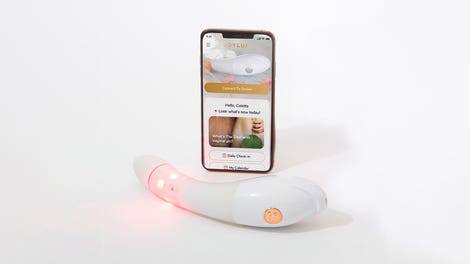 $50 Off
Joylux vFit Gold Device
My colleagues at Jezebel seemed perplexed by Teigen's insinuation that by having doggy style sex with her husband, he had certainly seen her butthole, "every time." Consider for a moment that every body is different; one of my colleagues posited that the location of the butthole could vary by person. Fair point.
Another presented a truly befuddling argument against Teigen's assertion that her Grammy award-winning husband has seen her butthole numerous times. Invoking Leonardo DaVinci's "The Last Supper" and drawing a diagram that made little to no sense, she suggested that, depending on the angle of penetration and the position of the two in question, it's entirely possible that this statement is a lie—the sightline of the top dog, as it were, would be up and over the bottom dog. That was quickly debunked, as most people don't bone while staring dejectedly up and over their partner's prone form.
Finally, some real questions—and real answers—emerged. If the butt in question is of a fuller variety, wouldn't the butthole naturally be obscured? Your glutes are the largest muscle in your body; even if they're not as pert as you'd like, when you assume the position, it's not like the cheeks will flop apart like a book with a cracked spine. After surveying a random assortment of men, most of whom did not answer, one responded, bringing this discussion to its inevitable conclusion.
"Yes you do," my source said. "But it's not usually spread open. Like, the cheeks sometimes cover it." Jezebel managing editor Joanna Rothkopf corroborated my growing suspicions that perhaps Teigen was right. "If you're looking for one of them and you're looking around, you'll see it," she said.
Case closed.