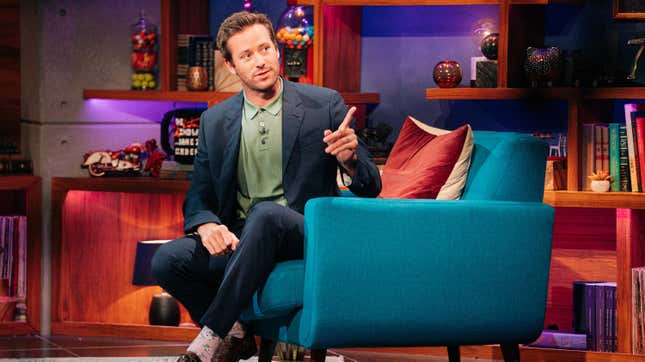 The Los Angeles District Attorney's Office is now reviewing claims of sexual assault made against Armie Hammer, CNN has reported.
Politician Cites the Constitution to Eviscerate Gun Supporters
"I can confirm that the LAPD has presented a case regarding Armie Hammer to the LADA. The matter is currently under review," the office's communications director Tiffiny Blacknell exclusively told the outlet.
The news of a probe arrives nearly three years after Hammer was accused by multiple women of rape and physical and emotional abuse. Though it's not currently known which specific claims are being reviewed, Hammer has been under investigation for the alleged rape of ex-girlfriend Effie Angelova since 2021. During a press conference that year, Angelova (who was then represented by Gloria Allred until they parted ways in September) claimed Hammer became "increasingly more violent" in their four-year relationship which culminated in a "violent" sexual assault. Hammer has repeatedly denied all allegations of rape.
"From day one, Mr. Hammer has maintained that all of his interactions with [Effie]—and every other sexual partner of his for that matter—have been completely consensual, discussed and agreed upon in advance, and mutually participatory," Hammer's attorney, Andrew Brettler told Page Six following the 2021 press conference. "[Effie's] attention seeking and ill-advised legal bid will only make it more difficult for real victims of sexual violence to get the justice they deserve."

More recently, in a bombshell interview with Airmail, Hammer once again refuted Angelova's accusations, asserting that his sexual encounters were always consensual and that he was only ever emotionally abusive.

"I had a very intense and extreme lifestyle," he explained, "and I would scoop up these women, bring them into it—into this whirlwind of travel and sex and drugs and big emotions flying around—and then as soon as I was done, I'd just drop them off and move on to the next woman, leaving that woman feeling abandoned or used."
Angelova, however, has maintained her allegations since coming forward in 2020, telling CNN that she is "severely traumatized" by Hammer.
"I feel disgusted that he's not taking accountability for what he did to me, and that he's resorted to attacking me," Angelova said in a statement. "Armie has no remorse. He continues to cause pain, and I don't think he's changed at all."
Brettler did not respond to Jezebel's request for comment.