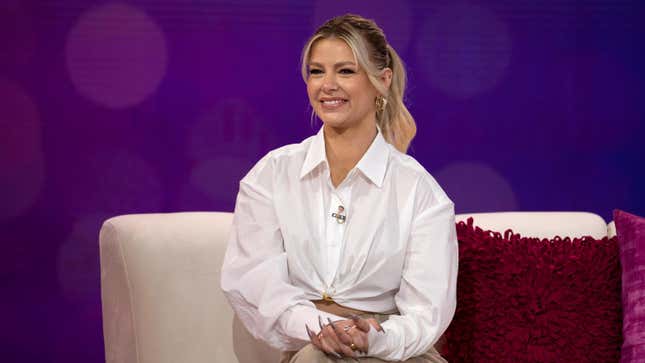 Vanderpump Rules darling Ariana Madix appeared on Alex Cooper's Call Her Daddy in an episode out Wednesday, and somehow, she still had #Scandoval tea to spill—more specifically the surreptitious sex-capades of her ex-boyfriend, Tom Sandoval and their co-star and (her former) friend, Rachel "Raquel" Leviss.
Raquel Leviss Told Us 'I'm Like, A Good Person' Just 48 Hours Before #Scandoval
"They had sex in my guest room while I was sleeping in my own bed that he and I went to bed in together and then he left the bed and went to the guest room and fuck her," Madix revealed to Cooper. Ope!
Typically, I would say it really doesn't get more gross than that, but it does. As we learned in last week's Vanderpump Rules finale, Sandoval and Leviss also had sex in her car outside of the home Madix shared with Sandoval as she mourned the then-recent death of her beloved dog, Charlotte. You might—rightfully—wonder how the hell could a person do that. Well, per Sandoval's many ham-handed explanations, their sex life left much to be desired. Madix, of course, had a rebuttal for this:
He would complain about frequency of sex and it felt like he wanted to have sex, but I was like, "But do you want to have sex with me? Is it about me, or is it just about the act?"
Heartbreakingly, Madix then describes how Sandoval struggled to express any specific attraction to her when she prompted him: "'People have said that they think I have a nice ass. I don't know if I agree with that, but do you agree with that?'" Madix recalled asking Sandoval. "He would be very turned off by the idea of me being like, 'Do you like that part of me?'" Ugh! I too hate when my partner is forced to inquire what it is I like about them because I can't articulate what it is myself!
Madix also divulged that, despite what Sandoval has repeatedly asserted, she never threatened her own life when they talked about breaking up.

"I was never saying that I was going to kill myself," Madix told Cooper. You might remember that in the season finale, Sandoval told co-star Scheana Shay that Madix had "threatened to fucking kill herself" when he attempted to end their relationship.

"I was saying that this life will be over for me, because I'll go do something else...I'm not talking about physically harming myself," Madix continued on the podcast. That Sandoval might have misinterpreted her response as one of a suicidal ideation, frankly, wouldn't surprise me; he's not the brightest bulb in the Schwartz and Sandy's sign.
Fortunately, as audiences have seen, Madix has moved on to a new man, a new business venture, and, as evidenced on Wednesday night's highly anticipated reunion, a whole new her.