The June Anthropologie catalog looks like a Southern Gothic novel come to life, compete with dilapidated porches, lonesome shores and shoes fit for hardscrabble dusty roads. All that's missing is the story… So we wrote one.
Ana Gasteyer Satirizes the Girl Boss in 'American Auto'
She sat on the dock, by the rustling reeds, and as the blazing sun sank into the shimmering sea, she could hear them fighting.
She could remember happier times. She could remember afternoons on the porch, lemonade, the redheaded neighbor's dog and how Mama would curl her fingers around a knife and shell peas so fast and laugh and laugh. What would Mama say if she knew how bad they were fighting? What would Mama say if she knew they were leaving?
G/O Media may get a commission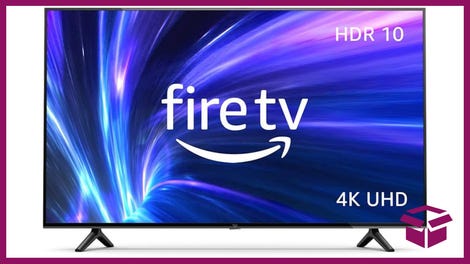 42% Off
Amazon Fire TV 50" 4K Smart TV
(Shifting Buttons skirt, $118)
Addy's dress hung in the window, ghostly pale and threatening. It was a dress not meant for the crumbling house and the gritty shore beyond. It was a dress not meant for Yoknapatawpha County. It was a dress meant for tomorrow, meant for traveling and the city and champagne and fellas with fancy cars.

(Time Gone By Dress, $128)
Frankie liked to touch Addy's things, lipstick from Atlanta, face powder from New York, perfume from France, and imagine that she could be someone else, someone more interesting, someone more like Addy. Frankie wanted to go to Paris, where everyone smelled nice and no one had to shell peas and no one's sister just up and left with a no-good husband who shouts all the time. Frankie could sense the world out there turning, spinning, full of French perfume, but where Frankie was everything was still, so very still, just standing still.
(Tiny Windows dress, $118; New Growth clips, $15 each)
There were lots of things on the beach, sand crabs, bottlecaps, an empty Coke bottle, some driftwood, but Addy and Quentin weren't there. Frankie tried to pretend she wasn't looking for them and just kept her eyes on the waves, as the bubbles washed up over her toes and then retreated back to the sea, only to come back again.

(Choreographed dress, $278)
Decisions had already been made. Things were going to be packed, things were going to be left behind. The mirror made of mirrors John Henry had tied together the summer of the big storm, the summer Mama died, was staying behind.
(Pen & Ink Violas, $498; Pen & Ink Tulip $498; Collected Memories mirror, $698)
The sun went down and it got quiet, too quiet, without any shouting or someone yelling sunnavabitch, or crying or screaming. It was quiet, but something wasn't right.
(Calligraphy bed, $2498)
Something inside of Frankie said don't go home yet don't go back to the house just stay and if they can't say goodbye maybe they won't leave at all so don't go home, don't go back to the house yet not yet just wait. And she waited, she waited as the waves got angrier and frothier and mean and she waited and for a while she even forgot what she was waiting for.
(Shine Through button up, $88; Coded Cutout belt, $38; Lingering Rays skirt, $98; Precious Metal mini-wedges, $80)
When Frankie did go home, the shadows were so long gone, but Addy wasn't mad, Frankie could tell, because when Addy got mad it came off of her skin like steam off a griddle, but Addy wasn't mad, Addy was strangely calm, and Frankie was afraid, Frankie hung in the doorway and felt scared, and Quentin wasn't even around. Where was Quentin? Frankie was afraid to ask.

(Parted Curtain collar, $98; Rochelle blouse, $88; Mini Boot trouser, $98; Finnia rug, $168)
Addy was still packing, fast now, and leaving things behind Frankie would have thought Addy wouldn't have wanted to leave behind. Addy was in a hurry, and in the pressing, scary-silence, Frankie was afraid. Too afraid to point out that Addy wasn't even shoving her favorite shoes in the beat-up suitcase.
(Fine-Cut oxfords, $128; Dusky Roads Mary-Janes, $178; Hemmed Paisley heels, $88; Picture-Perfect Clogs, $158)
Addy reached for Mama's red dress, and Frankie felt a sharp sting like a briar in her insides. If Addy took Mama's dress, Addy wasn't coming back, that much Frankie knew. Addy was really leaving, leaving the house, leaving Yoknapatawpha County, leaving Frankie. Addy and Quentin would drive up North with lipstick and French perfume and Frankie would be left alone with the creaking stairs, porch in shambles, Coke bottle beach and peas to shell. Maybe John Henry would come over and sit on the porch, but it wouldn't be like before, when there were lemonade laughs and checkers and lightning bugs and stars. Frankie thought about crying, but felt too tired.
(Dagmar shirtdress, $148)
It was clear that Addy was finishing up. It was clear that Quentin was gone, somewhere, somehow, but Addy had all her bags and was throwing them in the car as the crickets were singing and Frankie could only watch from the doorway, scared, tired, sad, confused, and wanting, for the umpteenth time in years, for her Mama not to be dead. Mama would tell Addy that sisters don't just leave sisters, no matter what their mean old boyfriends want. Mama would know what to say, Mama always had words when Frankie had none. Frankie said nothing as Addy loaded the last of the bags into the rumbling Chevy, and said nothing as Addy turned to her, with that look Addy had just about perfected, where her face was in today but her eyes were already in tomorrow.
(Sunlit Fringe bag, $278; Lavender Clouds bag, $68; Fancy Free tote, $78; Peeking Pleats bag, $228; Poised Mini-Bag, $78; Burden bag, $188; Follow Along satchel, $198)
"Get in the car," Addy said, and Frankie did.
(Damson Lace blouse, $198; Seamed & Cinched pants $98; Hemmed Paisley heels, $88)
Anthropologie [Official Site]
Related, sorta: "Self-Reflection": A Bizarre & Macabre Short Story, Brought To You By Vogue
Earlier: J.Crew's Summer Abroad: Sweet Swimsuits, Sharp Shorts & Dreadful Dresses
Memorial Day With Williams-Sonoma: Nom!
Catalog Fantasies: The Life Your Life Could Be Like
Inside The Very Pink & Very Pricey Barbie Catalog
The Pyramid Collection: Shopping For Free Spirits & Black Widows
Mother's Day At Dean & Deluca: Cake, Pie (And Rib Roast)
5 Fugly Things Urban Outfitters Wants You To Wear This Spring
April At J. Crew: Floral Rompers & Rugged Dudes Who Are Good With Their Hands
See also: All catalog posts