The hefty September issue of Vogue has a photo spread titled "Self-Reflection," shot by Steven Klein, which appears to be a vivid, Poe or Gorey-esque short story without words. Such a shame to have an illustrated tale without the text! Since concocting fantastical scenarios is one of the things I like to do best, you'll find that I have supplied the narration for Vogue's short story. A mystery wrapped in an enigma begins after the jump.





THE THING emerged soundlessly from the shallow end of the pool one humid August afternoon, whilst Millicent and Cordelia were reciting lines from Medea and contemplating what they ought to have for tea. They grew silent. The creature was very still, very beautiful, with an oddly bronzed hide. "Shall we invite it to stay for scones?" Millicent asked quietly, her hushed voice small under the mute and blazing sun. "It would be unseemly not to," Cordelia answered haughtily. "But we must notify Myrtle at once."
The creature refused to follow them inside the house, and they soon discovered that it preferred to remain as close to the water as possible. Dinner was a lavish affair with mousse for dessert. Cordelia deemed the thing a "nuisance" and went out of her way to pointedly ignore it. Millicent was filled with a gnawing sense of dread, which she blamed on menstrual cramps.
G/O Media may get a commission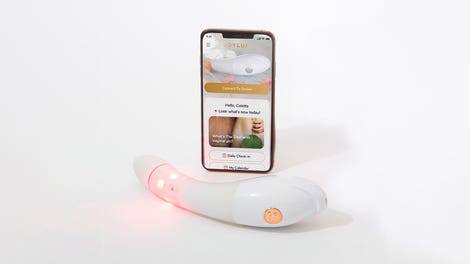 $50 Off
Joylux vFit Gold Device
On Thursday, the creature killed Myrtle. Cordelia began to suspect that The Hamptons had been a poor choice.
The creature became agitated without copious amounts of water being made available at all times. Harriet was enlisted to hose the thing down, as she'd once worked with elephants in Bombay.
On Friday, the thing killed Lucinda. The mood in the house was changing; was the entire summer to be ruined?
By Labor Day, all of the houseguests had grown weary of the creature's antics. Lenore announced she'd be spending next summer in Saint-Tropez.
The last bash of the season was a lively 1920s-themed bathtub gin-soaked soirée. They would be shutting up the house for the fall and returning to the city. "Are we going to leave it here, or shall we take it with us?" questioned Eloise. "Take what?" Imogen yawned. "The creature," Eloise replied. There was a long silence, and then Violet slowly turned and gave Winnifred a quizzical look. "What creature?" Violet seemed annoyed. No one had any idea what Eloise was talking about. Earlier: Valentino In Vogue: Models With Ennui Playing Invisible Croquet