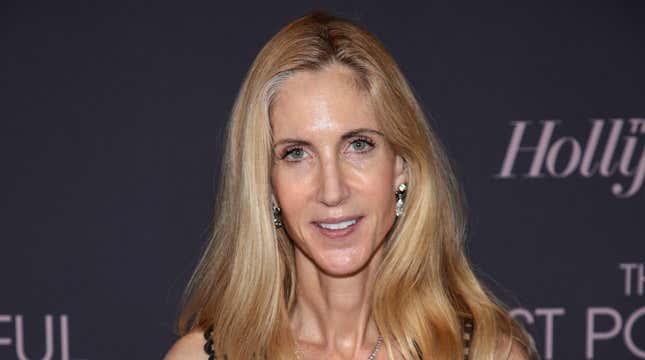 Conservative hack Ann Coulter is pretty damn annoyed at the anti-abortion wing of the Republican Party (so basically, all of it) after progressives won two critical races Tuesday night in the Midwest. Specifically, she is pissed that GOP politicians are continuing to push for draconian, deeply unpopular abortion bans, despite them resulting in repeated electoral losses.
Uterus Weekly: 15-Week Abortion Bans
"The demand for anti-abortion legislation just cost Republicans another crucial race," Coulter tweeted late on Tuesday night with a link to a story about the progressive victory at the Wisconsin Supreme Court. "Pro-lifers: WE WON. Abortion is not a 'constitutional right' anymore! Please stop pushing strict limits on abortion, or there will be no Republicans left."
I can't believe I'm typing these words, but: She's right! Anti-abortion activists won a major victory in overturning Roe v. Wade, but instead of just basking in the glow of victory and chilling the fuck out, anti-abortion activists have only used it as a starting point to push for more and more extreme restrictions. Sen. Lindsey Graham (R-SC) re-introduced a national 15-week abortion ban. Utah banned abortion clinics, which will effectively outlaw abortion once it takes effect. Florida is trying to ban abortion at 6 weeks. Idaho is trying to create a whole new crime called "abortion trafficking." A Texas judge is considering putting a national pause on the mifepristone. Anti-abortion activists harassed Walgreens about the fact that they would just apply to dispense abortion pills. Tennessee passed a total abortion ban, and likely will finish its legislative session without adding even so much as a rape exception. These are just things I remembered by casually scrolling Jezebel's abortion story tag!
All while these anti-abortion policies are debated—or worse, enacted—voters have been delivering repeated electoral losses to conservative candidates and policies. Multiple state referenda (even in red states!) saved abortion access. A Democrat won the governor's mansion in Arizona, where there's an abortion law from the 1800s still on the books, even if it's not enforced. Michigan Gov. Gretchen Whitmer (D) was re-elected, along with a Democratic majority in the state legislature, to repeal Michigan's own 1800s abortion ban. (Whitmer officially repealed it on Wednesday.)
Abortion is—if I may repeat myself—quite a popular right to have in the United States. People want to be in control of their own bodies and make decisions with their doctors. Until conservatives get this idea through their thick skulls, they will continue losing elections and become less and less relevant (fingers crossed!) in American politics.