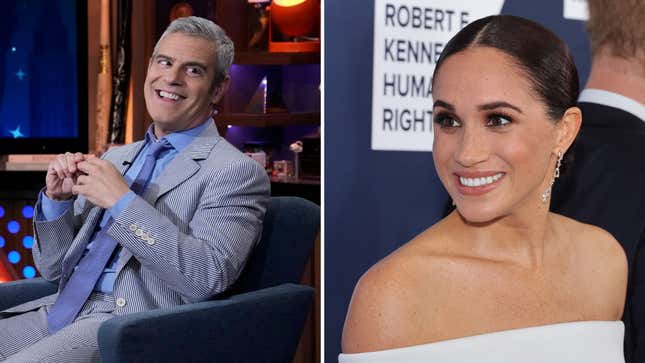 Days after it was reported that Meghan Markle's now-flushed podcast, "Archetypes," might've been ever-so-slightly fraudulent, Andy Cohen has come to her defense. I mean, don't act surprised. The man has been known to take up arms for an accused grifter. Just kidding. Kind of.
Raquel Leviss Told Us 'I'm Like, A Good Person' Just 48 Hours Before #Scandoval
In case you missed it, a Podnews report claimed that multiple sources said the Duchess of Sussex didn't conduct her own interviews and instead, edited her voice in after the fact. Cohen, who was a guest on the podcast, is now begging to differ: "Of course, I [spoke with Markle], And she definitely [interviewed me]," Bravo's top banana told Us Weekly. "That's an insane rumor."
Naturally, Page Six immediately latched onto the Podnews report and pointed to an "Archetypes" episode that featured author, Allison Yarrow. Yarrow, the tabloid highlighted, thanked Markle's producer, Farrah Safari, via this Instagram post, which called Safari a "great interviewer." As my colleague, Rich Juzwiak, noted on Monday, Markle's voice does appear on Yarrow's episode and the interview doesn't sound all that fake—unless you count Markle providing narration that's edited in later as such. But the majority of podcast hosts do that.
Cohen went on to recall Markle being "quite well-researched," "well-informed," and "thoughtful" during their 2022 conversation. I'm sure! One must come correct when they're interviewing the man who possesses the mental fortitude to direct over a decade of Real Housewives reunions like this. Or, this.

Now, is it cringe that the Duke and Duchess of Sussex nabbed $20 million in that Spotify deal that produced nothing but 12 episodes of a girlboss podcast that had the same effect as ASMR? Without a doubt. What's worse, however, is what we could've been subjected to as a result of this deal. In short: a series that saw Prince Harry sitting down with "controversial guests" like Vladmir Putin, Donald Trump, and Mark Zuckerberg to discuss their childhoods...yeah, that was an actual pitch from Prince Harry.
---
In other news that gave me a giggle: Dermot Mulroney really thought showing solidarity with the Writers Guild of America strike was doing an interview with a show that's continued on despite it, then just...walking off stage seconds before the commercial break. Oh, then doubling back to pose for photos with the hosts.
Drinks on me this weekend if you immediately knew a flaccid coup like this could only take place at a taping for The View.
"Since I have such respect for 'The View,' a news program with a heart, it was there that I felt comfortable enough to draw attention to the ongoing WGA strike for fair wages and working hours, as I find it incredibly important to continue to support the union," Mulroney told Variety after the show.
Sigh. Happy Friday, everyone.
---