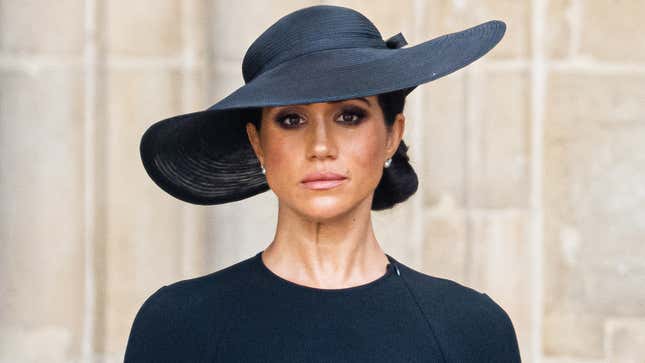 At first blush, it has all the makings of a modern lip syncing scandal: "Meghan Markle faked podcast interviews, her voice added later: sources," screams the Page Six headline. The sources are not specified as being exclusively Page Six's, but deriving from a Podnews roundup regarding the dissolution of Markle and Prince Harry's deal with Spotify, which netted them a reported $20 million and produced exactly 12 episodes of the interview series Archetypes. "Podnews has heard from multiple sources that some interviews on the show were done by other staffers, with her questions edited-in afterwards," says Podnews.
As evidence, Page Six points to the interview with author Allison Yarrow, which ran on the "To 'B' or not to 'B'?" Archetypes episode from November. In the caption of her Instagram post about her appearance, Yarrow thanked "producer @farrahsafari (an excellent interviewer)," which kicked off speculation in November that Markle wasn't doing all of her show's interviews. But listen to that segment of the episode and it's clear that there's no misrepresentation afoot—Yarrow discusses the history of the word "bitch" while Markle's commentary is interwoven. Markle is not pantomiming a conversation with Yarrow, but threading together Yarrow's various points with narration. This isn't a "faked" interview and in fact, that there is no direct conversation between the host and guest implies that someone else had performed the interview. This is a fairly standard practice.
(Jezebel did not review the rest of the show's interviews to determine whether anything seemed canned 'cause I ain't listening to all that.)
Archetypes was a shitshow by any measure—it took nearly two years to get off the ground and severely underdelivered. According to the Wall Street Journal, "The couple hasn't met the productivity benchmarks required to receive the full payout from the deal, people familiar with the matter said." With so much money on the table and so little work put in, you might wonder why Markle didn't interview all of her guests (what else did she have to do???), but if the "faked" interviews in question are like Yarrow's, Markle wasn't being deceptive, just perhaps lazy. And in my podcasting America, that's no crime.
---
Father's Day can and maybe should be everyday.
---