In an essay posted to Medium Thursday, Amy Schumer addressed the backlash surrounding her recent "Formation" parody/spoof/tribute/video. "It was NEVER a parody," she writes. "It was just us women celebrating each other."

The essay, titled "Information about My 'Formation'" is an earnest apology that explains Schumer's thinking behind the video much better than her Instagram post ever could. "While we were shooting our movie in Hawaii this summer we were all crazy for the album and also for Hillary Clinton," she begins – okay, sure? – before launching into her explanation about what "Formation" and Beyoncé mean to her.
"I love how in the lyrics of "Formation" Beyoncé is telling us to get in formation," she writes. "And also I like to think she is telling us ladies to get information. I did not mean to detract any of the meaning from the video." She goes on to stress her understanding of the original video's meaning, saying "I am of course horrified and sickened by the events that are addressed throughout that video and didn't see this as minimizing that and still don't."
In case you haven't seen what we are now calling a "tribute," Schumer, Joan Cusack, Goldie Hawn and Wanda Sykes give the "Formation" choreography the old college try while wearing what appear to be dirty linen shifts in the jungle. Her love for Lemonade notwithstanding, the "tribute" felt strange.
She continues:
It was NEVER a parody. It was just us women celebrating each other. The video Beyoncé made was so moving and I wouldn't ever make fun of that. There is absolutely no way to. I make fun of myself a few times in the video as I do in everything I am a part of. I loved every second of working with those women to make this thing that lifted us up.
G/O Media may get a commission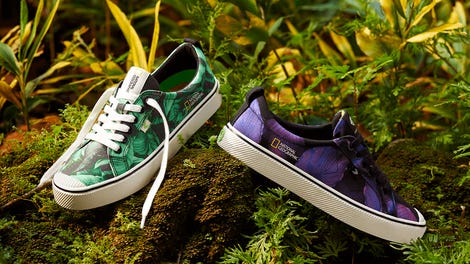 New New New
Cariuma + National Geographic
Schumer closes by invoking "empowerment", that old hallmark of marketplace feminism, writing:
My mission is to continue to work as hard as I can to empower women and make them laugh and feel better and I won't let anything stop me.#strongertogether #alllove
The apology is what it is. There's no doubt that she meant every single word, and truly believed it. Like her good friend Lena Dunham, Schumer's version of "feminism" and women helping women is shortsighted and lacks a self-awareness that one would think would've been addressed by now. If Schumer truly believes that "Lemonade" is "one of the greatest pieces of art of our time," you'd think that she would've read some of the wonderful work that came out after its release. Had she done so, she would've understood why this tribute rubbed so many people the wrong way.

Read the essay in its entirety here.