It's a Top Model update! Find out what Whitney, Claire, Fatima, McKey, Elyse, Jade, Saleisha, CariDee, Anya, Dominique and others have been doing for work.

Whitney is modeling for the "Women's Plus" category for JC Penny. Ironically, one of the shirts she models is called "Melrose."



G/O Media may get a commission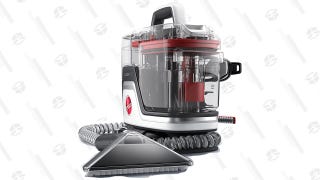 Save $10
Hoover CleanSlate Plus Carpet & Upholstery Cleaner
As you may know, Dominique won "Modelville" on the Tyra Show (the competition that Rene freaked out over losing) which earned her a spokeswoman job with beauty company Carol's Daugther. All I could find on the website was a picture of her face in the "Hands & Feet" products page.

Claire and her daughter are on the February cover of Parents magazine.

Fatima is appearing in a print ad for Arbonne.

Katie, who was kicked off Cycle 1 early in the game (for being too sexy aka for having fake boobs) appeared in this LG phone ad with Lauren Conrad and Brody Jenner. (She's the chick on the left.)

Mercedes, who came in second place on Cycle 2 has been in a bunch of TV ads for companies like Chili's and Dell, and most recently, in one of those annoying-ass Subway "$5 foot long" commercials, but it's been pulled from YouTube for some reason.
Cycle 8 winner Jaslene is a video ho.

Cycle 10 runner-up Anya walked in a butt load of shows in Hong Kong fashion week.

Cycle 11 winner McKey appears on the January cover of Forest & Bluff magazine. We've never heard of it.

Other big McKey news: she's started a MySpace page. She must be one of the last people on the planet to do so.
Speaking of MySpace, Cycle 1 winner Adrienne Curry is being crazy on her blog again. This time she's talking about religion. Here's a sample:
I am a new convert to my own self made religion. I have also had new members join, the first being DrMel, a good friend of mine. I have never felt so warm and fuzzy. I have decided to start the Church of Aslan, The Great Lion.
Mollie Sue from Cycle 6 was in a documentary for BBC about seven photographs that changed fashion. She helps recreate one of the shots. (She appears at minute five.)

Elyse from Cycle 1 has perhaps been the most successful high fashion model of all the former Top Models. She's on the cover of another foreign mag.

Cycle 9 winner Tootie got some work in a bridal magazine.

Stacy Ann from Cycle 10 is a calendar girl for the Seminole Hard Rock Hotel & Casino. (That's the same hotel/casino that Anna Nicole Smith died in.)

Katarzyna, also from Cycle 10, was in a spread in Spanish magazine LaMilk.

Jade, the contestant from Cycle 6 with the inventive vocabulary, is doing test shots, still chasing the dream.

The biggest news, perhaps, is that Cycle 6 winner CariDee is going to host and produce a show for MTV that starts shooting in April 2009, although that's all she say about the project.
For more info, check out Top Model Live Journal, and Top Model Gossip Blog.