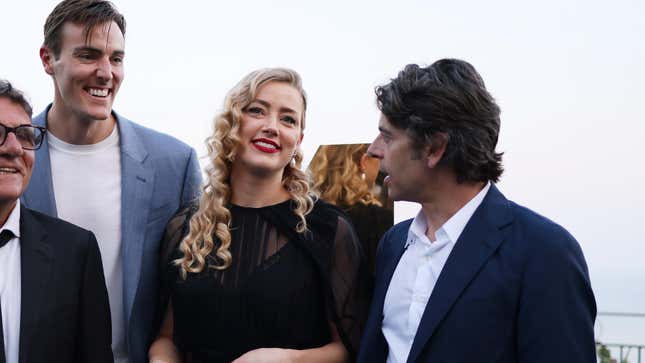 This past weekend launched Amber Heard's return to acting with the world premiere of psychological thriller In the Fire at the Taormina Film Festival in Italy—her first movie since her trial against her ex-husband, Johnny Depp, and the misogynist spectacle and smear campaign it sparked. Though that trial scorched much of my faith in humanity and its treatment of survivors, the outpouring of support Heard received from festival attendees; her In the Fire director, Conor Allyn; and her co-star Luca Calvani was nothing short of spiritually nourishing.

The Johnny Depp and Amber Heard Defamation Trial Has Begun
Speaking to Deadline, Allyn praised her resilience in the aftermath of her trauma becoming a spectacle and point of mockery. "I'm so happy that Amber went through something so awful and it didn't change her as a person," Allyn said. "She's still the shining light… and to go through something that terrible and be able to come out the other side and be whole, well I can't imagine it."
Calvani offered similarly glowing words:
Anyone that suffers that sort of ordeal and is able to overcome it with grace, no matter what side you're on, no matter what you believe or which social media [outlet] you plug into or whatever your hashtags are, you have to give credit for the incredible journey this woman has been through, and she can teach us all a couple of things as far as resilience and courage.
Allyn and Calvani's support is among the strongest she's has received from public figures since the trial last year, which concerned whether Heard defamed Depp by writing in a 2018 op-ed that she was a survivor of domestic violence. Depp's legal team deployed textbook strategies used to discredit and demonize victims, and also slut-shamed and portrayed Heard as mentally ill.
Social media was awash with hatred against her, and brands and figures in the entertainment industry overwhelmingly sided with Depp. Celebrities ranging from Bella Hadid and Hailey Bieber to Jennifer Aniston and Zoe Saldana liked Depp's self-congratulatory Instagram post after winning the trial (only for many of them to unlike it after new evidence came to light months later, showing fabricated photos and audio from Depp's legal team, among other concerning revelations). The makeup brand Milani and singer Doja Cat made viral TikToks mocking Heard. Courtney Love recounted Depp saving her life, implying—against all logic—that this meant he couldn't have harmed another woman.
No public figures other than Phoebe Bridgers and Constance Wu, who have both spoken about surviving abuse themselves, have strongly publicly expressed support for Heard. Before Allyn and Calvani, Heard's other colleagues were silent on the matter, and her Aquaman co-star Jason Momoa liked both Heard and Depp's Instagram posts at the conclusion of the trial.
That Heard was received by throngs of supporters—some holding "I stand with Amber Heard" signs and offering her flowers—at Taormina and is receiving lavish praise from her colleagues would have been unthinkable one year ago.
Since the trial, Heard has made a new life in Spain; an unnamed friend of Heard's told the Daily Mail that she's "raising her daughter away from all the noise." And though a source also told Page Six in May that Heard was "quitting Hollywood"—and her IMDB page shows no upcoming projects—Allyn told People that he is confident Heard "has an incredibly bright future ahead." The director also expressed hope that In the Fire "will be a great opportunity for [Heard] to have something beyond the trial to talk about" and the movie will "be a platform for a hell of a comeback." I hope so too.