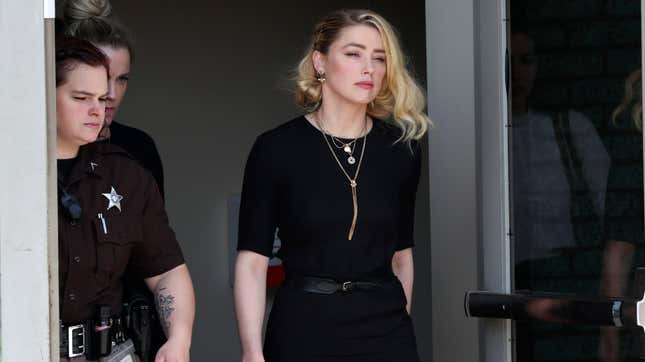 Just one year after the defamation trial from hell, Amber Heard has officially left Hollywood. She hasn't just said goodbye to showbiz—she's literally departed the country, per a new report.
The Johnny Depp and Amber Heard Defamation Trial Has Begun
According to the Daily Mail, Heard and her 2-year-old daughter Oonagh Paige have "quietly relocated" to Spain and opted out of acting for the foreseeable future. Apparently, Heard—who's last appearance onscreen will be a cameo in Aquaman and the Lost Kingdom—and her daughter are now thriving far, far away from this cruel country: "She's bilingual in Spanish and is happy there, raising her daughter away from all the noise," said an unnamed friend of hers. *Insert Lucille Bluth meme here.*
Last June, after weeks of torturous litigation, tacky TikTok trends, and a disinformation campaign, Heard was found guilty of defaming her ex-husband via her 2018 Washington Post op-ed alleging domestic violence. Though photos, video, and emotional testimony affirmed her allegations against Depp, after just two and a half days of deliberation, a Fairfax County, Virginia, jury concluded that she wrote false statements about him, that she deliberately wrote them to damage him, and that she did so with malice.
In a statement after the verdict was announced, Heard said:
"The disappointment I feel today is beyond words. I'm heartbroken that the mountain of evidence still was not enough to stand up to the disproportionate power, influence, and sway of my ex-husband. I'm even more disappointed with what this verdict means for other women. It is a setback. It sets back the clock to a time when a woman who spoke up and spoke out could be publicly shamed and humiliated. It sets back the idea that violence against women is to be taken seriously. I believe Johnny's attorneys succeeded in getting the jury to overlook the key issue of Freedom of Speech and ignore evidence that was so conclusive that we won in the UK. I'm sad I lost this case. But I am sadder still that I seem to have lost a right I thought I had as an American – to speak freely and openly."
Two months later, 6,000 damning court documents were unsealed, revealing that Depp suffers from erectile dysfunction, submitted nude photographs of his ex-wife into evidence, and attempted to hide a declaration that Heard never caused him "specific physical or mental injury." In December 2022, Heard filed a robust appeal of the ruling, but she ultimately settled with her ex-husband.
Of course, the Virginia trial was the second defamation trial Depp has called for since the pair divorced. In 2018, he sued the Sun for libel after the publication deemed Depp a "wife beater" on its front page. Depp lost that case, with a judge concluding the tabloid's headline was "substantially true" after evaluating several incidents of Depp's alleged abuse.
Of course, Depp remains just fine: He's walked in the Savage X Fenty show and is hawking portraits of dead celebrities and directing a film. Thus, it's nice to see Heard flourishing in her own way, too.