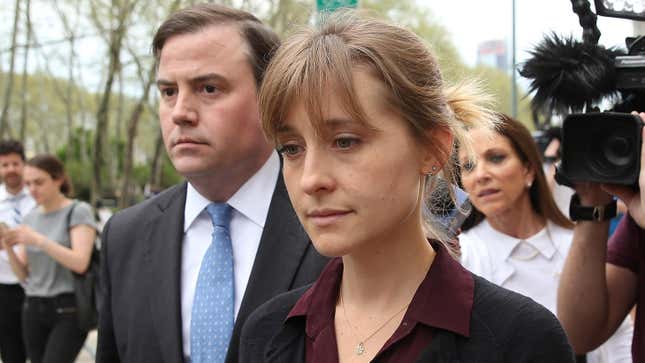 Allison Mack has written a letter apologizing to all of the NXIVM survivors she recruited into the horrific, exploitative sex cult.

In the letter—a court document obtained by Us Weekly submitted ahead of her sentencing on Wednesday—the actress, previously best known for her role on superhero teen show Smallville, writes that she is "so sorry...to those who have been harmed by [her] actions," adding that her involvement in Keith Raniere's "nefarious and emotionally abusive" cult is "the biggest mistake and greatest regret of my life."
In a memo attached to the letter, Mack's lawyers request that the actress, who pleaded guilty to racketeering and racketeering conspiracy charges in 2019 for her involvement with NXIVM, receive no jail time.
Raniere, who was convicted of seven felonies for his involvement with the cult, was sentenced to 120 years in prison last October.
---
Johnny Solinger, the onetime frontman of '80s rock band Skid Row, reportedly died of liver failure on Saturday. He was 55. [Deadline]
Democratic Alaska senator-turned-two-time presidential hopeful Mike Gravel has also died. He was 91. [Politico]
Kim Kardashian might have divorced Kanye West, but she's still wearing Yeezy. [Hollywood Life]
Can we please let Ben Affleck and Jennifer Lopez date and fuck in peace?? [Hollywood Life]
Bruce Springsteen reopened Broadway following an historic 471-day shutdown with a concert last night. [New York Post]
"Happy summer" from the inimitable Sharon Stone!