On Monday when you watched Jerry Sandusky give an interview on national TV that convinced absolutely no one that he's innocent, you may have concluded that his lawyer, Joe Amendola, isn't very good at his job. Then when Amendola started appearing on news programs and suggesting that the alleged victims are liars who are just looking to make some money by claiming a Penn State football coach abused them, you probably figured out that he's also a terrible person. Now an attorney representing one of the accusers has come forward to call out Sandusky and Amendola for their victim-blaming strategy.
Amendola has said that some of the boys named in the case will be coming forward soon to say that they were never assaulted. Pennsylvania lawyer Ben Andreozzi, who's representing one of the eight alleged victims, tells the New York Times that this is absolutely untrue. In fact, the defense's decision to bash the boys in the media has only made them more determined. He says:
"My client heard that and has dug in his heels. He is feeling more comfortable about going through with this. The comments maybe backfired. They have caused victims to be more motivated to testify against him."
Sandusky's lawyer also claims, "They have other people who are saying they saw something, but they don't have actual people saying, 'This is what Jerry did to me.'" However, Andreozzi has advised multiple boys who say Sandusky abused them, and is meeting with another possible victim this week.
Andreozzi's client, who's now in his 20s, met Sandusky through his Second Mile charity. He says he was sexually assaulted multiple times during the years he knew Sandusky — and it sure as hell wasn't a bit of playful towel-snapping. Andreozzi says that after watching Sandusky dismiss the rape accusations, the young man, "wants him to know he fully intends to testify he was severely sexually assaulted by Mr. Sandusky."
G/O Media may get a commission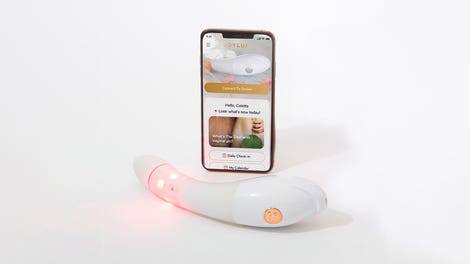 $50 Off
Joylux vFit Gold Device
In their public statements this week, Sandusky and his attorney have tried to intimidate victims into remaining silent by sending the message that no one will believe them. Andreozzi says:
"I am appalled by the fact that Mr. Sandusky has elected to revictimize these young men at a time when they should be healing. He's being a coward by refusing to admit to his culpability. Sexual assault victims can begin the healing process if there's an acknowledgment of fault. Mr. Sandusky could assist in that process and instead he is putting these young men through it again."
It's hard for Sandusky to get any more despicable, but he's managed to do it in the way he's defended himself. Thankfully, it seems the victims are through with letting Sandusky shame them into keeping silent.
Sandusky Accuser Would Testify of Severe Sexual Assault, Lawyer Says [NYT]
Earlier: In Interview Sandusky Says He's No Pedophile, Admits to Horsing Around With Kids
10 New Accusers Come Forward In Sandusky Case