The story of Jerry Sandusky, the former Penn State football coach accused of sexually abusing eight boys, took another sickening twist tonight as Sandusky denied the allegations and made a feeble attempt to explain how multiple witnesses mistook his behavior for child abuse. In a telephone interview on Rock Center, Bob Costas questioned Sandusky in detail about the charges, which the coach chalks up to locker room horseplay and outright lies.
Before continuing, be advised that the interview contains "rough content," as Brian Williams puts it. To start, Sandusky claims that he's entirely innocent. Well, he did commit some of the acts he's charged with, but he says he touched boys in a manner that wasn't intentionally sexual:
"I could say that I have done some of those things. I have horsed around with kids I have showered after workouts. I have hugged them and I have touched their legs without intent of sexual contact."
Costas points out that it's almost inconceivable that the Penn State graduate assistant could have misconstrued the sight of a man raping a boy in the locker room showers. Sandusky remembers the incident in detail, but is hazy about the slapping sound that Costas graphically describes. He says it was caused by, "possibly snapping a towel, horseplay." As for why police heard him admit to a mother that his genitals touched her son, he says he was only expressing that if the boy was of the opinion that he was touching him inappropriately, then that would be wrong.
In a sexual assault defense that's troublingly similar to that used by Herman Cain, Sandusky says that in addition to people not understanding his playful nature, some of his accusers are just making things up. Sandusky's lawyer tells Costas that some of the eight victims will come forward soon and admit that (much like the ladies who get their jollies by falsely accusing Cain) they were lying about the charges. Though prosecutors say they can't identify the boy who was allegedly raped in the shower, Sandusky's lawyer claims they've tracked him down and he denies the rape ever took place. Costas remarks, "so you've identified him, but the Commonwealth hasn't," to which the lawyer says, "interesting, isn't it?" Of course, Sandusky makes it sound like he made a habit of going nude in the locker room around children, so it shouldn't be too difficult for the defense to find a young shower partner who wasn't assaulted.
Now Sandusky realizes that getting too friendly with children isn't the best plan, but he isn't beating himself up about it. He says of the scandal,
I don't think it's my fault. I've obviously played a part in this ... In retrospect I shouldn't have showered with those kids. That's what hits me the most.
G/O Media may get a commission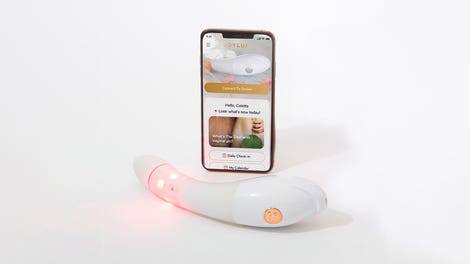 $50 Off
Joylux vFit Gold Device
Legally, Sandusky is still innocent until proven guilty, but the roundabout way he answers a simple question about whether or not he's sexually attracted to little boys won't help his case with the public. As Costas, who conducts the interview with an appropriate look of horror and disbelief on his face, tells Sandusky, "It seems that if all of these accusations are false, you are the unluckiest and most persecuted man that any of us has ever heard about."