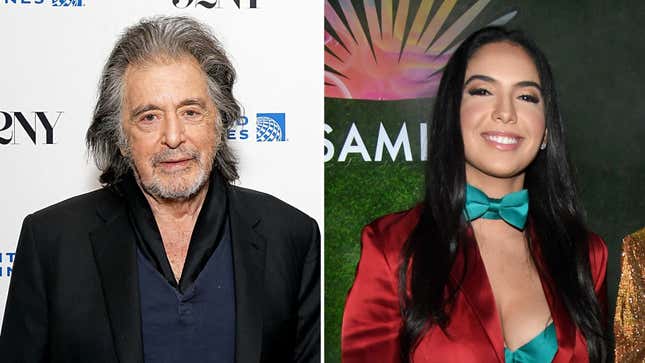 And just like that, 83-year-old Al Pacino is officially a dad. Again. For the fourth time, to be exact.

Lucien Laviscount Dishes on Red Flags and Romantic Deal Breakers
A representative for Pacino confirmed to USA Today that he and his 29-year-old girlfriend, Noor Alfallah (who is younger than one of Pacino's daughters, a fact that I am morally required to restate each time I write about this pairing), have welcomed their first baby together, a boy named Roman Pacino.
Sources close to the couple say that both Pacino and Alfallah, in TMZ's words, are "ecstatic." And I do believe in baby bliss, but that is at least a little bit curious, given that, earlier this month, TMZ reported that Pacino didn't think he would be able to impregnate someone at his age. Sources told the gossip rag that Pacino sought a DNA test after Alfallah told him the news. It certainly doesn't help that Alfallah reportedly didn't tell Pacino about the pregnancy until two months ago…when she was already six months pregnant.
On Wednesday night, the two were photographed grabbing dinner at the Sunset Tower Hotel in Los Angeles. Page Six reported that, when they left in a black Land Rover, there was an "object resembling a car seat in the back." I can't decide if I'm more distraught over the fact that a fuzzy image of something that may or may not be a car seat is being reported as something that may or may not contain Baby Roman, or the fact that these two somehow have the time go out to dinner in public with a newborn on their hands. Aren't they frazzled? Do they have that many nannies?!
Alfallah and Pacino—who is older than his baby mama's dad—were first linked in April of 2022, though Page Six has said the couple had been privately dating since COVID lockdowns.
Earlier this month, a friend assured Page Six that she is "not an opportunist," she merely "loves old people." (She's previously been linked to Mick Jagger, 79, and 61-year-old billionaire Nicholas Berggruen.)
In any case, congrats to this unconventional couple who isn't letting a measly thing like a half-a-century age gap get in their way.