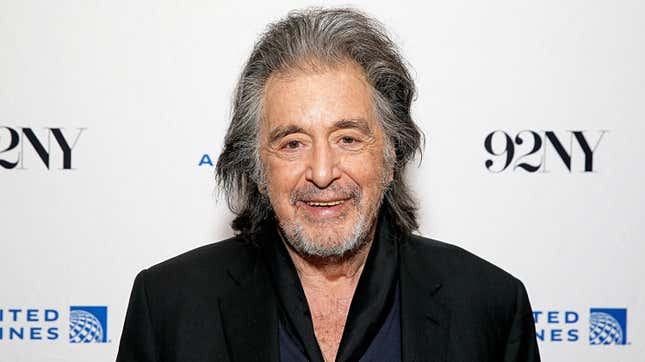 While some of us are subjected to constant reminders of the existence of our biological clocks starting around the age of 18 and hard stopping at 45, fatherhood, as we have learned again today, can arrive at just any ole time. Robert De Niro just had a newborn at 79, and now Al Pacino, at the ripe old age of 83, is becoming a daddy for the fourth time.
Is Emmy Rossum Old Enough To Play Tom Holland's Mom?
As one Succession fan on Twitter put it, they are:
TMZ reports that the actor is expecting a child with his 29-year-old girlfriend Noor Alfallah, who is apparently eight months pregnant. Pacino has three other children: 22-year-old twins with Beverly D'Angelo and a 33-year-old daughter with Jan Tarrant. All of Pacino's other kids are old enough to be the parents of his new one, which is fun to think about, and his daughter is four years older than his girlfriend! His rep has confirmed the happy news.
Pacino was first publicly linked to Alfallah in April of last year, when the two were spotted out to dinner in Los Angeles, although sources told Page Six that the couple had been dating in private since quarantine.
"Pacino and Noor started seeing each other during the pandemic. She mostly dates very rich older men…She has been with Al for some time and they get on very well," one source told Page Six. "The age gap doesn't seem to be a problem, even though he is older than her father."

Before dating Pacino, Alfallah reportedly dated Mick Jagger, when the rock star was 74 and she was 22. She has also been linked to 60-year-old billionaire Nicolas Berggruen. Me sees a trend!!!

"Our ages didn't matter to me," Alfallah told Hello! magazine after she and Mick Jagger parted ways in 2018. "The heart doesn't know what it sees, it only knows what it feels. It was my first serious relationship, but it was a happy time for me."

In this case, apparently, the heart was feeling some 83-year-old dick. Nevermind that upon giving birth, Alfallah will be closer in age to her newborn than to the baby's father. Best of luck to the growing family, can't wait to see how all of this unfolds!
---