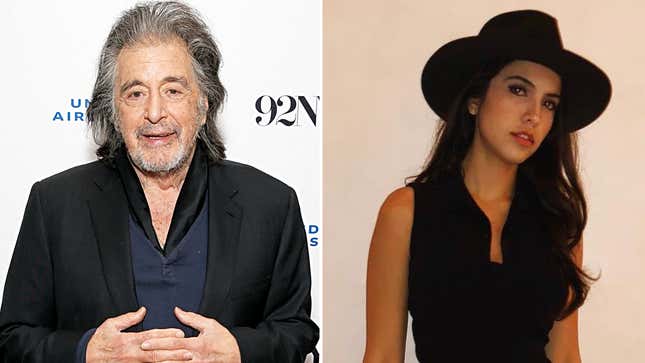 Within weeks of news that Robert de Niro, 79, and his 40-something partner had welcomed a baby together, Al Pacino, 83, and his 29-year-old girlfriend Noor Alfallah entered the chat via TMZ, which reported this week that Alfallah is eight months pregnant with Pacino's child.

Is Emmy Rossum Old Enough To Play Tom Holland's Mom?
And according to a Thursday report by the same tabloid, Pacino was just as surprised by his ability to impregnate a woman as the rest of us were: Sources told TMZ Pacino immediately sought a DNA test, as he didn't believe he had impregnated Alfallah.
"Al Pacino was so certain he could not get his girlfriend or anyone else pregnant, he did not believe the baby was his at first, and got a DNA test for proof," TMZ reports.
Alfallah reportedly only told Pacino about the pregnancy two months ago, too. But now we're all on the same page, which is great!
Pacino and Alfallah first went public with their relationship in April, but clearly, they were first linked at least eight months ago. For Alfallah, a film producer whom friends described to Page Six as "an old soul," Pacino is part of something of a pattern: She's previously dated Mick Jagger, who is 79, and 61-year-old billionaire Nicholas Berggruen—a spry youth compared to Jagger and Pacino.
Sources close to Alfallah have insisted to Page Six that her relationships with these men aren't about money: "She is very positive and not an opportunist," her friend told the outlet. "She loves old people, and these guys are fascinating."
I love old people too! I've never been inclined to fuck them, but I suppose we all express love in different ways.
In any case, congratulations to Pacino and Alfallah on their family, and Pacino on his fourth child—and apparent medical miracle. I truly wish them the best, and for Pacino to live to be 100 to see his youngest turn 18.