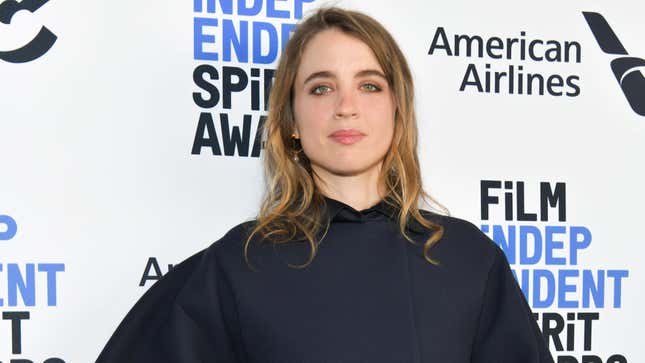 French actress Adèle Haenel, most famous for her role in the Cannes-prize-winning Portrait of a Lady on Fire, announced her retirement from the film industry in her country in a scathing open letter published on Tuesday. Haenel wrote that people in power in the industry have ignored high-profile sexual misconduct scandals that have come to light in France since #MeToo and "joined hands [to protect] the [Gerard] Depardieus, the [Roman] Polanskis, the [Dominique] Boutonnats," referring to some of the men behind these scandals.

Jennifer Hudson Achieves EGOT Status, is True American Idol
"It bothers them that the victims make too much noise. They preferred that we disappear and die in silence," she wrote of leaders in her industry. "They're ready to do anything to defend their rapist chiefs, those who are so rich that they believe they belong to a superior species, those who make a show of this superiority by… objectifying women and subordinates."
Last month, Depardieu was accused of sexual harassment and assault by 13 different women. Polanski is charged with drugging and raping multiple minors, including one girl as young as 13, and since fleeing to France in the 1970s, he's continued to make films (including one—The Palace—that will come out this year). Dominique Boutonnat is charged with sexually assaulting his own godson.
Haenel notes that these men have maintained power and influence in the industry despite the extensive allegations against them, and she'll no longer tolerate working under these conditions. "I have no other weapon than my body and my integrity. Cancel culture in the primary sense: you have the money, the strength and the money, you bask in it. ... [but] you won't have me as a spectator," she wrote. "I cancel you from my world. I depart, I go on strike, I join my comrades, whose quest for meaning and dignity rules over that of money and power."
To Haenel's point, France, like other countries in Europe, has notoriously offered refuge to men in the industry accused of abuse in the U.S. who struggle to find work here afterward. For instance, despite facing disturbing allegations of intimate partner violence by his ex-wife in 2016, in the summer of 2021, Johnny Depp received the highest honor at Spain's San Sebastian International Film Festival. Last summer, Depp went on tour with his band across the U.K., and his forthcoming French film Jeanne du Barry is set to open the Cannes Film Festival next week. The festival's general delegate Thierry Frémaux defended Depp in offering him this prestige slot, claiming, "If Johnny Depp had been banned from working it would have been different, but that's not the case. We only know one thing, it's the justice system and I think he won the legal case." Depp, of course, is accused of beating and raping Amber Heard throughout their marriage.
Kevin Spacey, who faces sexual assault charges in several countries, has similarly found roles in the U.K. since first being accused of assault in 2017. In the last decade or so, Woody Allen has primarily worked in Europe after being unable to draw funding for his films in the U.S. following sexual abuse allegations made by his adoptive daughter in the 1990s.
The sheltering of abusers by the film industry in France, Haenel writes, is a direct threat to the safety and working conditions of other actors. It's a labor issue, and by leaving the industry, she's effectively going on strike. To that end, she hasn't appeared on-screen since starring in Portrait of a Lady on Fire, instead focusing on political activism. In 2020, she protested the 45th César Awards (France's equivalent of the Oscars) by walking out when Roman Polanski was awarded the best director prize for his 2019 film An Officer and a Spy. More recently, she joined ongoing, nationwide protests against new policies announced by the French government to cut pensions.
In short: Adèle Haenel is an absolute legend, and we stand in solidarity.