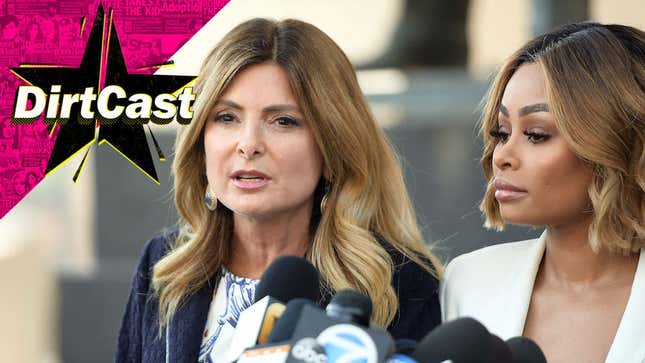 Blac Chyna doesn't fit the mold of a so-called perfect victim. Grossly, our culture prefers women who are violated by sexual harassment and violence to appear sweet, innocent, and (because we're a country of racists) preferably white.
Chyna, on the other hand, is an African American former stripper with cheek studs and a body full of tattoos. She's best known as a video model and for her relationships with famous men. And those facts are, ironically, what makes her pushback against ex Rob Kardashian's revenge porn attack on her all the more impressive.
On this week's DirtCast, Megan Reynolds and I sit down with the woman who knows more about the Kardashians than anyone else I know (she even once spent nearly $500 playing the Kim Kardashian: Hollywood app): Jezebel pioneer and Viceland Executive Producer Tracie Egan Morrissey.
Because she's an obsessive (though highly stylish) freak, Tracie's understanding of the Kardashians (and the Kardashian-adjacent) is practically personal, as is her anger towards Rob, who she describes as "the most entitled person, a whiny baby brat." He reaps the benefits of the Kardashian name without facing half the scrutiny and pressures that his sisters do. Another thing she reminds us of: Robert Shapiro, the Kardashian's attorney, previously represented Rob when he was charged with theft and battery following an incident in which he allegedly punched a female paparazzo in 2013. (The case was dismissed following a civil settlement.)
Regarding Blac Chyna's Nightline appearance and the NDA (which shows that Chyna, by moving forward with her abuse charges, could owe $10 million to the Kardashians for breach of contract) disclosed within, Morrissey remarks that it's Rob who should sign an NDA because "he's the one who blabs."
"I think that with Chyna going on a press tour about this, I mean, she's definitely an opportunist, but I do think that it's noble, at least on [Chyna's attorney] Lisa Bloom's part, to be taking revenge porn on as an issue because it is really serious," Tracie concludes. "I think that having a stripper in particular that this is happening to—I think that's great because there is no perfect victim."
Everyone who has been victimized can also be demonized because, as human beings, we've all fucked up or been less than "perfect" at some point. You can call Chyna a gold digger, a player, or a user, but that doesn't make the crime committed by Rob—the leaking of her nude photographs without consent—any less insidious.
DirtCast can be found on Apple Podcasts, Stitcher, Spotify, Google Play, and iHeart Media. Follow Tracie on Twitter here.
Our show is produced by Levi Sharpe with editorial oversight by Kate Dries. Mandana Mofidi is our Executive Director of Audio. Our theme music is by Stuart Wood. This episode was mixed by Brad Fisher. Listen to our politics podcast, Big Time Dicks, here.