For seven years, Madeleine Davies has both shaped and embodied the very soul of this website: fierce, full of heart, irreverent, and utterly deranged. As a writer, she has conjured epoch-defining essays, invented stuff that everyone else copies, and pontificated beautifully on seemingly trivial concerns. As Jezebel's Managing Editor, she has been tireless about telling all of us to stfu on Slack and write something, for the love of god; her loving calls-to-arms as such, always somewhere between 3 and 4 p.m. (the witching hours), ring like an angel's trumpet, reliable and true. But most of all, Maddie is the best kind of friend: Loyal, honest, sincere, and the first person to break a bottle and use it as a shiv should you ever find yourselves together in a bar brawl (hypothetically speaking, of course!).
Betsy Wolfe Reveals the 'Most Embarrassing Thing That's Ever Happened' to Her on Stage
Today is Maddie's last day at this website, as we send her on a million more auspicious and horney journeys, and also where she will rightfully complete her transformation into a full-blown cat lady. Jezebel won't be the same without her. We love you, Maddie.
Julianne Escobedo Shepherd, Deputy Editor, Jezebel
Of the top three biggest bitches at this site (Maddie, Megan Reynolds, and myself), Maddie is by far the bitchiest. For that reason I'm extremely glad she's leaving = one less person in the death match to vie for top dog (biggest bitch) at this website.
Kate Dries, Managing Editor, Wealthsimple/Former Deputy Editor, Jezebel
Maddie already told the story about our date at the beginning of our friendship where we went to see Austenland together, which kind of pisses me off, because it's a very strong scene, the stuff good rom-coms are made of. But what I'll say now would be the kind of thing that would make it to the DVD special features, the exposition that makes the date so meaningful. It's how lonely I was before that date, how much I was wowed by working at this place with these people who I had been reading for years, and how comfortable she seemed in it. Maddie taking me under her wing was one of the first steps in my happiness in my life at Jezebel, but also my happiness in my current life in general. She is a sincerely funny, talented, thoughtful, supportive person and I feel deeply lucky to have gone through so much together, and to get to be a witness to what comes next. Actually, she's the part of the rom-com you don't get to see: the actual relationships between How-To girl Andie and her two nameless best friends. In this analogy, let it be clear I'm not Kate Hudson, but Maddie is Kathryn Hahn. And we all know what happened to her after that movie, right?
Hazel Cills, Pop Culture Reporter, Jezebel
When she wasn't writing some of my all-time favorite posts at Jezebel; telling the best scary stories; making me feel so SEEN when I realized that she too loved that Billy Bob Thornton is afraid of antique furniture; giving advice to my old workplace when we were unionizing; making me laugh all the time with her absolutely sick sense of humor; Madeleine Davies was a complete, raging bitch to me.
Maddie, I hate you, and I am really going to miss you. Here's a collage I made.
Emma Carmichael, Staff Writer, Wyatt Cenac's Problem Areas/Former Editor-in-Chief, Jezebel
Every site in the formerly-known-as-Gawker blog universe is lucky if they have a sort of staff historian on the masthead—someone who knows what has been blogged before, which commenters have been effectively grandfathered in despite their obvious wretchedness, and who can offer up the single most hilarious headline on the very first try and make everyone on staff die laughing. For many years at Jezebel, that person has been Maddie Davies.
If you've read Jezebel even a handful of times over the past seven years, you've probably laughed at a blog written by Maddie. Her writing imprint on the site is undeniable; without her voice and sense of humor, Jez would have always been a little less weird and a little less thoughtful. She's been loyal to the site above all else, something easily seen through what she's survived over the years: a Gawker TV internship (I shudder at the thought), two offices, a bankruptcy, an acquisition, countless union negotiations, a handful of company-wide meetings in which bad news was imparted and Maddie stood up to clearly and calmly say the thing everyone was thinking, three different editors-in-chief, and more Nick Denton manifestos than I care to recall. If there is ever a Jezebel Mount Rushmore, Maddie belongs on it.
I trust her ghost (as we all agree: ghost rael) will haunt the Jezebel pod until that happens.
Phoebe Bradford, Video Producer, Jezebel
Thanks for letting me film you getting hypnotized on camera that one time. Sorry the world found out you used to be a British colonizer.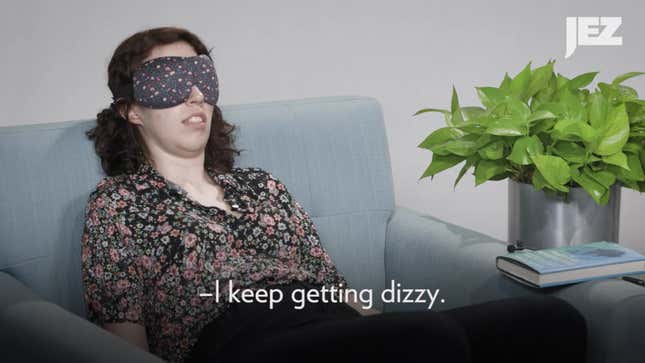 Dodai Stewart, screenwriter/former Deputy Editor, Jezebel
At some point shortly after Maddie started working at Jezebel, we got into a conversation about the animals you relate to, for example, what would be your patronus, or what animal you feel represents you. She was on some bullshit about how she felt like she was a tiger. cheetah, or a lion, or "some kind of large cat," and I was looking at her like she was out of her ding dang mind, because the answer was so OBVIOUS. "No no no," I said. "You're the WB Frog."
If you know Maddie, you know she's always slipping into weird UK accents (too much Skins, Peaky Blinders, or Mad Fat Diary?) and little song and dance routines; one day she's an urchin from Oliver!, the next she's channeling Stevie Nicks or Ann Margaret, and the next she's all, don't worry about the ribbon on my neck, I'll take it off when the time is right, btw I'm a ghost in juggalo makeup. I remember Maddie getting real emotional about Annie and how it wasn't Pepper's fault she was mean, it's just that she was frustrated by aging out of the system. Once Maddie asked to borrow cash and when I handed her a twenty she said "Thanks, Daddy," exactly the way Marilyn Monroe says it in Gentleman Prefer Blondes. She's a hoot and a weirdo and it's hard to roast her because I love her dearly, and because she is a goofy dumdum whose twitter bio used to be about how strong and midwestern her calves are. Good luck out there, kid. Hello my baby, hello my honey, hello my ragtime gal.
Kelly Faircloth, Staff Writer, Jezebel

I've been working with Madeleine for four and a half years, already an experienced member of the team when I arrived, fresh-faced and naive, to what was then Gawker Media Group. Now continents have shifted; mountains have risen and fallen and oceans have advanced and retreated; eons have come and gone and until today, she had become the longest-serving staffer.

Now Maddie is gone and I am the Jezebel Crone, like a plot twist at the end of the excellent horror movie she will one day write. CURSE YOU, MADDIE, I cry from the front-steps of the cave at the end of the world (i.e. the Jezebel trash cabinet full of empty snack wrappers and other garbage) in which she has trapped me. CURSE YOU!

Kara Brown, Writer, Grown-ish, Fancy Pasta Bitch/former Senior Writer, Jezebel
Madeleine Davies has the range.
It's actually goddamn stupid how funny she is.
I can now admit on this platform, on her behalf, that she does not like it when people who don't know her call her Maddie.
Lucky for me, I do know her. Hi Maddie!
She is somehow both a total loon and a complete professional.
She is a blog queen and I say that because it's an actual skill to be able to oscillate between, again, total lunacy and incredibly thoughtful writing and she is just so damn good at her job.
Also, her constant talk about Kate Bush made me significantly more likely to google Kate Bush one day.
I have absolutely no idea what was going on in this video but I think it proves my point. Maddie has the fucking range.
Bobby Finger, Staff Writer, Jezebel
When I started at Jezebel in 2015, I thought Madeleine Davies's name was spelled Madeline Davis. I also confused her with Ellie Shechet, and hadn't the faintest idea how to spell Shechet. Three years later, I can tell my two dear friends apart on sunny days between 7:00AM and 7:00PM, and am able to spell their names without mistakes nearly 90% of the time. Please give me a round of applause for those major accomplishments, but don't forget to throw in a clap or two for Maddie, who has spent the past seven years of her life ensuring that this remains the best website on the internet (after Katherine Heigl's blog). Her site-defining sense of humor, unwavering ethical standards, and selfless dedication to improving the work conditions of her coworkers made me not only a better employee but a better citizen, and not having her around will undoubtedly make me a little bit worse at both. I can't wait to see what she accomplishes at her new gig as President of Univision. Go get 'em, queen!
Megan Greenwell, Editor-in-Chief, Deadspin
When I first started running into Maddie at social gatherings, she terrified me! It's not that she's mean—she's so nice!—but she just seems so cool and smart and put-together in her white overalls and good hair and Leo Slack avatar.
What really helped me be less terrified of Maddie was determining that she knows less about sports than possibly anyone I know. Her boyfriend is a sports writer. Many of her friends work for Deadspin dot com, a good website about sports. I have attended a Super Bowl party with her. And yet she never seemed to know a goddamn thing about any games, athletes, rules, controversies, or any of it.
Anyway, Maddie more-or-less knows between four and eight basketball players now, so I guess I'm scared of her again.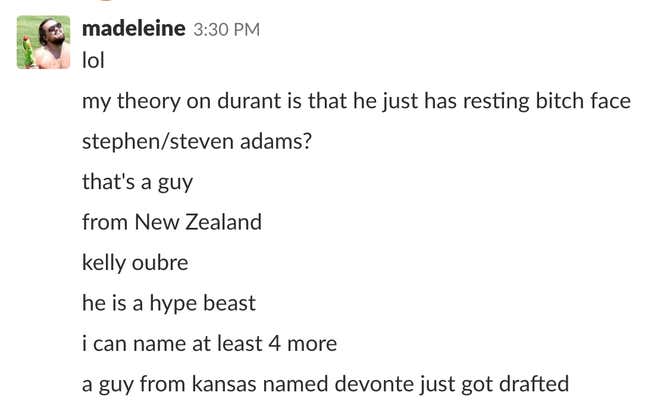 Ellie Shechet, Senior Writer, Jezebel
Madeleine Davies is talented, kind, and extremely funny, and I've always appreciated that she chose to dye her hair the exact same shade as my hair as a gesture of respect. But one of the things I love most about her is that she is willing—nay, eager—to waste precious hours of her life doing very stupid things with me. I will always treasure my memories of the night we traveled to Real Housewives hotspot Beautique and an Eastern European man with a silver tie invited us to become paid escorts. Or the night we stared at Luann de Lesseps's completely visible butt through her dress at a recent sold-out cabaret performance. And who could forget the time when we walked across the street to Petco to take pictures with Ken Todd and his dog, who Madeleine assured me was dead? Certainly not me! Maddie: I treasure these memories, and when you finally decide to pony up for that pair of honkin' cans, I hope to reserve beds next to each other in the post-anesthesia care unit.
Kelly Stout, Features Editor, Jezebel
I highly recommend bringing Maddie to every meeting you attend. There are so many good things about Maddie, but the thing I personally love about her most is that every time I found myself in a meeting with her, I could count on her to cut right through the shit and say it like it is. She is the rare combination of brave and smart as hell. She deploys meanness in service of being kind, and makes life so much better for everyone who has the privilege of working for her. I love you a lot, Maddie. To me, you ARE Jezebel.
Will Sansom, Our Father, GMG
HEY! i'm out of town all week but here's a TERRIBLE photo of maddie eating nasty chicken at medieval times.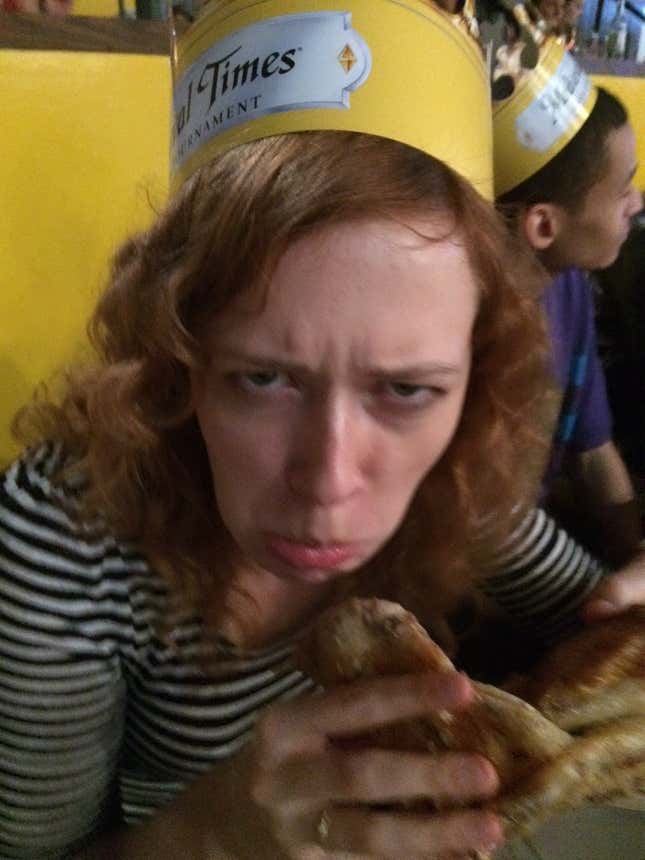 Alex Dickinson, Executive Managing Editor, GMG
I feel like every time Maddie and I talk to each other, one of us makes an awkward joke and walks away with their head in their hands. It's extremely likely that's just me and I'm projecting. What I know for sure is that I was nervous the first time we spoke because I'm a genuine fan. She's one of the funniest, smartest and most prolific writers that's ever come out of this place and Jezebel will forever have her mark on it. She also once asked me if Australians (like me) called water "ground juice." We don't, but we should. RIP.
Dayna Evans, Freelance Writer/Former Colleague
In April of 2017, Maddie interviewed Jessa Crispin, the author of Why I Am Not A Feminist, at the New York Public Library. During the Q+A, a man who clearly had no idea who either woman was, interrupted their conversation from the front row to say, "Could we stop it with this man hating stuff? Enough." Not only did Maddie respond unequivocally, "I'm sorry—no," but the below photo is what her face looked like when he later came up and asked an even dumber question.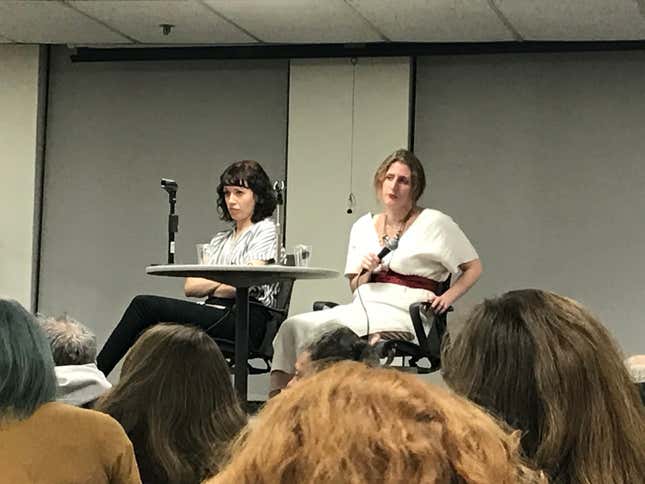 She wrote one of my all-time favorite pieces, one that I reference often, and she is funnier than basically anyone I've ever met. This isn't a roast of Maddie because the only thing I could think of that is worth roasting is the fact that she chooses to be friends with me.
Kate Knibbs, Staff Writer, The Ringer/Former Colleague
I know this is a roast, but I want to use it as an opportunity to right a cosmic wrong. In January of this terrible year, Maddie came up with a marketing campaign for the National Football League—pro bono, out of the goodness of her own heart!—that she was sure would go mega-vi. It was called "This Is Why We Football." While the NFL foolishly did not take advantage of the terrific idea presented to it, there's still a chance to get the word out, which is why I'm glad I surreptitiously documented Maddie explaining her vision:
Also, one time Maddie and I got into what felt like a two-hour argument after three to seven beers about whether the world would be better off if humans were annihilated, and while I concede her point that most humans are trash, I wouldn't want to live in a Maddie-free world. She is, truly, why I football.
Tom Ley, Managing Editor, Deadspin
Nearly every time I crossed paths with Maddie in a common space in the office, she either looked me right in my face and called me a "bitch," flipped me off, or said something else rude. I will miss her dearly.
Rich Juzwiak, Senior Writer, Jezebel
I cannot and will not believe that Maddie is leaving. I don't even understand what this site is without her.
Joanna Rothkopf, Senior Editor, Jezebel
I recently said that Maddie makes friends via prolonged campaigns of cruelty. I still believe this to be true!!! She is a nasty woman who has participated in targeted harassment against me and several of our coworkers, including poor Hazel. But if you know Maddie for even one moment, it's clear that her bullying is her showing deep love (sorry bitch!!) and that she's actually highly warm and caring, even to Hazel. When I applied to work at Jezebel I literally said in my interview, "I'd like to be Madeleine Davies," and even though I have not become Madeleine Davies, I have managed to suction onto her like a barnacle onto the back of a turtle. I am looking forward to following her wherever she goes without her consent.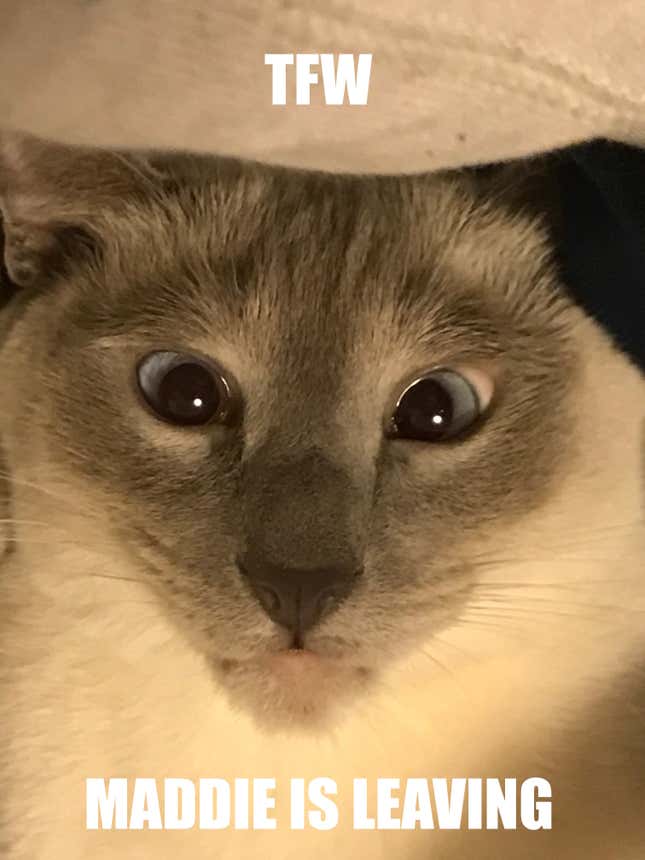 Ashley Feinberg, Senior Reporter, HuffPost
I still remember the exact moment I realized Maddie was extremely funny. I was working at Gizmodo, and clicked on a story titled "Alex from Target Is Not as Hot as My High School Crush Brian." Everything about it is perfect, and I was and still am extremely jealous that I didn't write it. I also remember hovering over her name in Slack and thinking how much I wanted to tell her that her post was perfect, but I ended up saying nothing in order to maintain the appearance of being "cool." Well, Maddie, let me tell you now—this post is perfect. You are also good, and I'm very sorry you're dead now.
Megan Reynolds, Senior Writer, Jezebel
When I started at Jezebel one year ago, Maddie scared me. Now, a year later, as she prepares to head off into the great beyond armed with two cats, a new iPhone, and a indefatigable spirit, I am pretty sure that I now frighten her. Fuck you, Maddie. For leaving!!!!!
Sam Woolley, Senior Illustrator, GMG/Member of The Widdle Babies
Maddie leaving really stings. While I could go on and on about how great she is, how she makes everyone around her happy, how her smile can cheer you up when you're feeling down, how she'll wave to me or pop her head into the art pod as she strolls by to the Jez pod, how she'll walk with you for blocks when you're dealing with yet another breakup, how she made the best video GMG has ever produced, how she's by far the funniest person you'll ever meet, this isn't about that. I'm not gonna be sappy and emotional like the others (because I will cry): This is purely about how Maddie is the best trivia teammate ever. Maddie, Will Sansom, and myself were part of a trivia team (The Widdle Babies) that had a solid undefeated run for about four months (I think). We killed at trivia, building up a bond reinforced with craft cocktails and cheese curds. Here is a picture of Maddie after yet another victory, beaming with pride at the prize we won!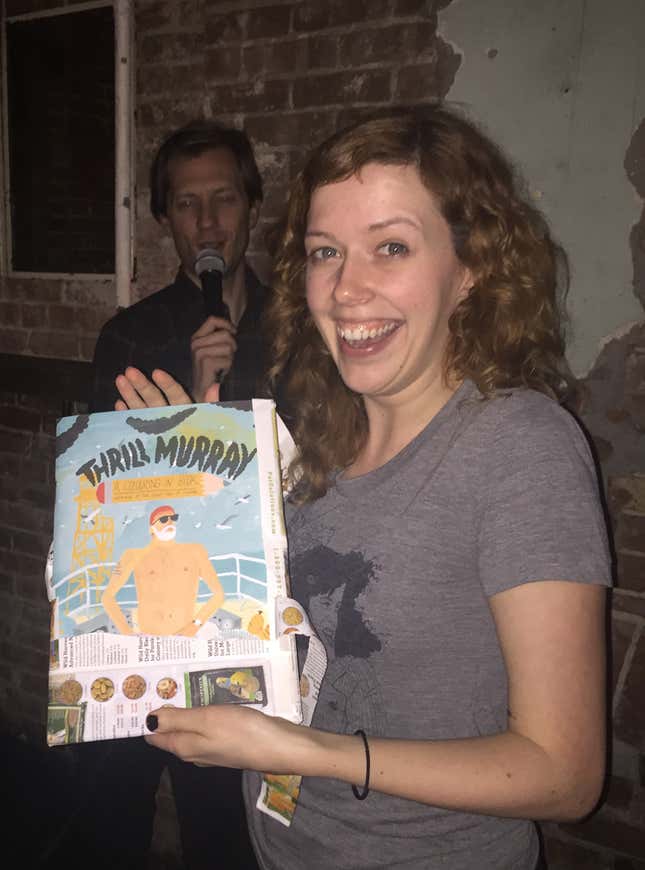 And here are the winners a few years later looking fly as shit at this year's holiday party.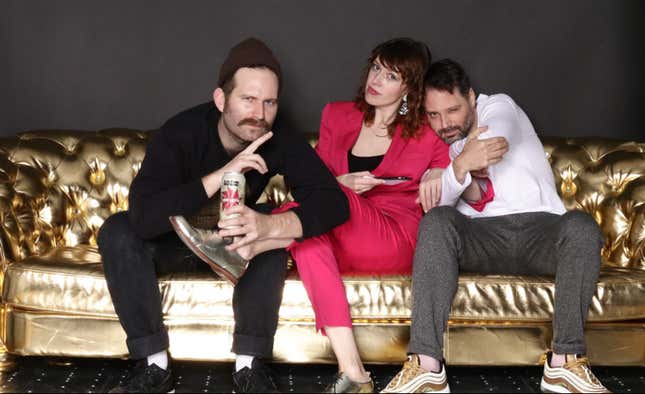 I'll miss you, Maddie.
Hamilton Nolan, Senior Writer, Splinter
Three things that stand out about Maddie are: 1) One time I went to Cuba to do a story and I was on like a package tour full of all old people, and on my tour were two people who grew up with Maddie in Wisconsin, and they talked all about Maddie the whole time; 2) When we started the union here Maddie was one of the most important and hardcore people who made it all happen; and 3) Maddie has written too many good things to name but many of the best of them were burns. She is a vicious burner.
Now you look around this damn place and we really need hardcore union people and vicious burners and instead she is LEAVING. I guess the lesson is, when you go to a foreign country, you can't get away from her, but when you want her to stay in your company, she wisely leaves. And then burns you.
Maddie, please hire me in the future.
Ashley Reese, Staff Writer, Jezebel
I just started at Jezebel a few months ago so I don't have as much to say as the others. But I will say this: Maddie was super welcoming and always made me laugh; she's funny as hell! But the moment I will absolutely cherish was the time that we both talked about Marauders-era Harry Potter fan fiction briefly during a pitch meeting and when she slid into my DMs and dropped off a fanfic rec. Honestly.............that's when I knew she was a real one. I'm going to miss her, and probably bombard her with a fanfic rec or two when she leaves. True friendship.
Katie McDonough, Senior Editor, Jezebel
Maddie was the nicest person here and the meanest. I will miss her a lot.
Samer Kalaf, News Editor, Deadspin
There are three things about Maddie that I admire and envy:
Her writing. If everyone in this post mentions "Becoming Ugly," it still won't get the amount of praise it deserves. Even if you've read it, read it again.
Her sense of humor. Maddie has countless jokes that could highlight this attribute, but one headline that will stick with me is "Even a Cunt Like Me Can't Hate on This Adorable Baby." Of course you want to see the baby after reading that. And Maddie was right: That kid is goddamn adorable.
Just as memorable is Maddie's brave proposal regarding male dogs:
Her compassion for others. Maddie has selflessly contributed a lot of her own time to the GMG Union. She's done a hell of a job representing us as well as doing her best to solve our problems and allay our concerns. But here's a different example of her concern for her coworkers. When we moved to a new office, it was clear that some things had changed. One of those changes was the quality of the toilet paper—it had gotten worse. I can't recall how the topic came up, and I can't find the exact conversation in the chat transcript, but I do distinctly remember that Maddie was vocal on how rough this toilet paper could be on a blogger's "bhole," or "bh." (She uses the terms interchangeably.) Not everyone would be courageous enough to speak up on an important issue, but Maddie was. She did not just care for her own bhole. She cared for all our bholes.
Clover Hope, Culture Editor, Jezebel
When I hear the name Madeleine Davies, I think of many things, but mostly: Real Housewives, red hair, and anxiety. Whenever I worry that I'm a nervous wreck, I look over to Maddie and I'm like, okay I'm not that much of a nervous wreck, look at this gal here!
There's a poetry to the way Maddie conducted herself in Slack. She really had a way with words, was always eloquent, never crass, completely mature, not silly, and when it came to oversharing, she rarely did. Why won't she open up? I would wonder sometimes.




I generally dislike working with people, but Madeleine Davies was a great person to work with, and often the funniest person in the room when she didn't even know it. She is the longest running Jezebel staff member (possibly a witch) and so upon her death, we lose the keys and many of the secrets of the great classic Jezebel, which is just one thing that makes her so irreplaceable. I will miss her. (Also, it's Opposite Day. 😜)
Harron Walker, Writer, Jezebel
She pushed me down the stairs.
Ecleen Caraballo, Social Editor, Jezebel
Maddie's leaving? She's allowed?
As the longest running Jezebel staffer, having been here seven years, Maddie is a constant reminder of what Jez is: brilliant, funny, and a pinch of rude AF. The fact that she's been here this long is a testament to who she and Jezebel are—a loyal chick + a brand worth building. She has been a huge part of making Jez what it is today and for that I am grateful. She also told me where I could find the best sea-salted chocolate cookie in the area, which I will never forget or share (they run out fast and I am sometimes selfish, sorry). Go hug your precious cats and enjoy retirement , Madeleine! Cheers 🥂
Anna Merlan, Senior Writer, Special Projects
Maddie is a truly wonderful person, and it's hard for me to picture this place without her. Which is why I want to tell the story about how she laughed and laughed at the poisoning death of one of my relatives.
Sometime last year, in the midst of some other discussion, Maddie cracked a joke about putting poison in someone's breakfast cereal. It was a good joke, in context, but I got kind of distracted.
"That's how my [close relative] died," I answered, because that's true.
Maddie looked at me in alarm, and then started to giggle in shock. I started to giggle back because, you know, what the fuck kind of thing was that for me to share?
"Are you serious?" she asked. I was.
In obvious distress, but unable to stop shock-laughing, Maddie said, "I am so sorry." Both of us then began semi-crying because there was a lot going on.
We've never successfully been able to relate this story without both sounding like total monsters, but I'm confident that we'll get it right one of these days. My best wishes to Maddie as she purchases a mysterious, foreboding lighthouse and becomes its caretaker.
Tommy Craggs, Senior Enterprise Editor, Huffington Post/Former Colleague