This weekend, thousands of young people from around the world will be packing up and traveling to the the middle of the California desert for Coachella, the most buzzed about music festival of the year. Of course, these days Coachella style is just as important as Coachella music so how do you keep yourself looking fresh and cool after a long hot day of jamming out to your favorite bands in the sun? Here are some easy-yet-creative makeup tips to help you out!
Before we get to that, I should probably address how hard I've been on Coachella over the past couple years. It is not a "scenester nightmare" or a post apocalyptic hellscape populated by "millennial coke monsters." I was just being bitter when I said that! Coachella is great! All music festivals are great! So please, take this Coachella makeup tutorial as my way of making amends. (And feel free to use it for other music festivals and summer events as well!)
---
Step 1
Chances are you'll be doing this in a hotel bathroom, so I'm assuming you won't have any trouble accessing decent lighting and a mirror. Start by pulling your hair back out of your face, cleaning your skin and moisturizing. This will make the whole process so much easier!
Step 2
I burn very easily when out in the sun (blame my Irish ancestry), but even if you don't, be sure to wear enough sunscreen and to reapply it regularly. Remember: There's NOTHING fun about skin cancer.
G/O Media may get a commission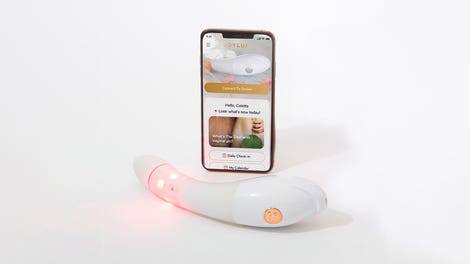 $50 Off
Joylux vFit Gold Device
I like to start with a very even base of it.
Step 3
As you've probably read or seen on various style blogs, bold brows are super in right now and nowhere will this be more evident than at Coachella. Fill in your brows using a high enough quality eye pencil that it won't rub off throughout the day.
I prefer Mac.
When you're done filling in your brows, they should look something like this:
Step 4
The eyes! Using liquid eyeliner in an environment as hot and sweaty as Coachella might seem a little risky, but — hey — life was meant to be lived dangerously. If you're really nervous about it, you can always buy a VIP pass so that you can hop in one of the many sponsored tents to cool down and fix your makeup.
To show that you're on top of the trends, I suggest going with that surprised, doe-eyed look that's so popular among starlets like Taylor Swift and Zooey Deschanel. To accomplish it, I recommend using a waterproof liquid eyeliner like this one:
Of course, the technique of applying liquid eyeliner is a little difficult, so be sure and do it with a slow and steady hand so it ends up looking something like this:
Step 5
Onto the lips!
Now, as you can probably see from the pictures, my mouth is a little asymmetrical, which is why I like to even things out with some lip liner.
Step 6
Fill in your lip line with a bold color that's sure to demand attention!
So smoochable!
Step 7
Because a music festival is the perfect opportunity to get a little edgy, feel free to add some creative or avant-garde touches! Glitter, feathers or even a small touch of face paint are all easy ways to have fun and stay super cute.
You're now Coachella-ready!
Have a hard time following along? No worries! I made a Vine version for your convenience <3<3<3
Lede image via Shutterstock.