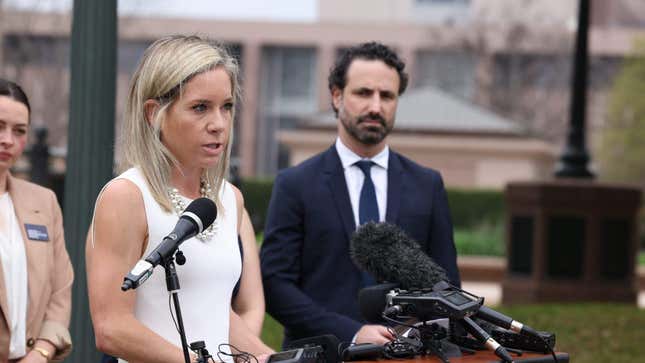 In March, after being forced by Texas' abortion laws to carry to term a nonviable pregnancy that threatened her life, Samantha Casiano gave birth to a three-pound baby who died four hours after birth. Casiano, a mother of four young kids, testified about her experience in court on Wednesday. After explaining that she was unable to publicly share where exactly in Texas she lived due to safety concerns from a previous abusive relationship, Casiano began to vomit while at the witness stand when asked about the specifics of her harrowing experience.
Uterus Weekly: 15-Week Abortion Bans
Casiano's fetus, who had an anencephaly and would be born without a skull, "was going to die inside or outside of my womb," she had testified earlier through tears.
On Wednesday, a Texas district court judge heard the first day of arguments for Zurawski v. State of Texas, a landmark case that seeks to clarify a dangerously confusing exception to the state's archaic abortion laws. The suit is brought forth by 13 Texas women who say they almost died from life-threatening pregnancy-related complications and were still unable to get emergency abortion care, even though the state's abortion bans include a hypothetical exception for such cases. Health care providers in violation of Texas' laws face the threat of life in prison, a $100,000 fine, and loss of their medical license.

The plaintiffs, represented by the Center for Reproductive Rights, are asking the judge to grant a temporary injunction on the abortion bans, while the state is asking for the suit to be dismissed altogether.
One plaintiff, Amanda Zurawski, says she experienced severe pregnancy-related complications that led to a life-threatening sepsis infection and the permanent closure of her right fallopian tube—an outcome that's jeopardized her fertility even as she still hopes to have kids. She's just one of the plaintiffs who's expressed concern about potential infertility as a ripple effect of the state abortion ban. But the state of Texas is actually using that issue against the plaintiffs as it tries to throw out the case: Attorneys for the state argued in court on Wednesday that the women don't have standing to challenge the abortion laws because it's not certain they'll become pregnant and experience life-threatening pregnancy complications again. Their experiences with being denied care are "tragic, but in the past," a state attorney said.
In a motion to dismiss the suit filed last week, the state argued that none of the women have claimed "they are relatively certain to become pregnant again," and "in fact, several of the patients have admittedly struggled to become pregnant." Zurawski, testifying before the court on Wednesday, said this framing is "infuriating and disgusting and ironic." She continued, "Do they not realize the reason why I might not be able to get pregnant again is because of what happened to me as a result of the laws that they support? … Anybody who's been through infertility will tell you it is the most isolating, grueling, lonely, difficult thing a person can go through."
That attorneys for the state would now use her current fertility challenges against her, Zurawski said, "speaks to the content of their character" and the fact that the "state doesn't care about the lives of their constituents." Nick Kabat, an attorney at the Center for Reproductive Rights who's representing the plaintiffs, told Jezebel in a phone interview that Texas attorneys' language—in court and in the motion—is "wildly dismissive, to a frankly surprising extent." The plaintiffs in the lawsuit were "heartbroken" by the loss of their pregnancies and some still want to have kids, he said, but they're uncertain they'll be able to and are now being subjected to "personal attacks" about their bodies.
Zurawski, who became pregnant in May 2022 after significant fertility struggles, testified that after her water broke at 18 weeks and she learned her fetus wouldn't survive, she was still denied an emergency abortion. Doctors told her they couldn't offer the procedure because the fetus still had a heartbeat, and she wasn't "sick enough that my life was at risk." Doctors continued to monitor her fetus' heartbeat to determine if and when they could intervene, and Zurawski recalled through tears that she'd tried to listen to it, "simultaneously wanting to hear it and not wanting to hear it at the same time."
Soon after her water broke, Zurawski became infected with sepsis; she developed a high fever and her condition rapidly worsened to the extent that she couldn't move and even lost control of her bowels. Her parents flew in to visit her because they feared it could be last time they saw her. The hospital didn't induce labor until it was clear she was imminently in danger of dying.
While Zurawski survived, she lives with the long-term ramifications of being denied care. Her recovery took weeks, after which she and her husband determined they still wanted to try to become pregnant again. Upon seeking help from a specialist, they learned severe scarring had permanently closed her right fallopian tube. Zurawski's uterus had collapsed and needed to be reconstructed by a doctor. Reliving this experience—"the most traumatic period" of Zurawski's life—through her advocacy has been "excruciating," she said, but she continues to do so because she knows she's one of many people across the country who have gone or will go through this due to abortion bans and their unclear language.
Zurawski and Casiano are joined in testifying by other plaintiffs, including Ashley Brandt, who had to leave Texas for emergency abortion care after one of the twins she was carrying was diagnosed with a fatal condition; and Dr. Austin Dennard, an OB-GYN who also had to travel out of state to receive abortion care for a nonviable pregnancy.
Brandt—a mother of two including a young son and her surviving twin—testified that she doesn't plan to get pregnant again. "I don't feel safe to have children in Texas anymore," she said. "It was very clear that my health didn't really matter, that my daughter's health didn't really matter." Since the couple's experience last year, Brandt said, "My husband actually got a vasectomy."
The state of Texas maintained in court that the women's experiences are a result of the failures of individual medical providers to adequately interpret the law, rather than the law itself. The state's written motion to dismiss the suit accuses the women of trying to "conjure standing by imagining a future scenario wherein they might be harmed," all but erasing what's already happened to them and reducing their gutting stories to hypotheticals. At one point, the motion implies the women filed the lawsuit for monetary gain because one of them created a GoFundMe to cover the high costs of burying her fetus.
"We're seeing the state just individually naming and attacking these women and repeatedly suggesting their stories were made up," Kabat told Jezebel of the state's motion to dismiss the suit. "The overall suggestion from the state of Texas is just that it doesn't care what happened. That it just doesn't want to hear complaints."
In May, one of the plaintiffs, Kierstan Hogan, shared her story of escaping an abusive relationship in Oklahoma and moving to Texas after she became pregnant. Upon moving, her water broke at 19 weeks, and she was kept against her will at a religious hospital which required her to be "accompanied to the bathroom" and told her she "could be arrested for trying to kill my child" if she left the hospital premises.
Another plaintiff, Lauren Miller, was pregnant with twins when she learned that one had trisomy 18, a severe fetal abnormality making it unlikely for the fetus to survive to birth. She was hospitalized several times as her condition continued to worsen, but was still denied an emergency abortion for the fetus with trisomy 18 and forced to travel to Colorado for care. Texas, in its motion to dismiss, insists that the state bears no responsibility for Miller's "confusion and frustration she felt" throughout this gutting ordeal.
The plaintiffs have also previously spoken about how their harrowing, near-death experiences were rendered even more stressful by the threat of criminal charges and lawsuits. Zurawski has said that even as she feared for her life, she "didn't even feel safe Googling options" as she lost her pregnancy; Miller said at a press conference that her doctors "were afraid they'd be arrested just for saying the word abortion out loud" and questioned, "Where else in medicine do we wait and see how sick a patient becomes before acting?"
Arguments for the case will resume on Thursday.