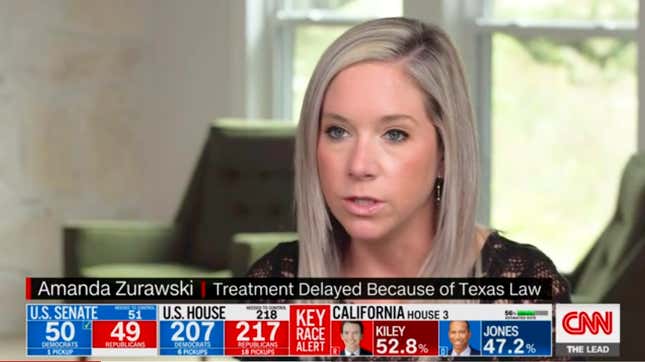 Tonight is the State of the Union Address, and among the two dozen guests First Lady Jill Biden will host in her viewing box are Josh and Amanda Eid Zurawski, a Texas couple who know the harms of abortion bans firsthand.
In August, Amanda's water broke when she was 18 weeks pregnant, long before a fetus can survive outside the uterus. But doctors didn't intervene in her miscarriage because the treatment is an abortion, which the state had outlawed. They sent her home to watch for signs of infection, including sepsis. Three days later her fever spiked to 103 degrees and the hospital decided she was now sick enough to be induced (which is considered an abortion when done before viability). But hours after the procedure, and even with antibiotics, her infection got worse. She developed symptoms of sepsis and was moved to the ICU, and her family members were preparing to say their goodbyes. Zurawski survived, but the infection scarred her uterus, and it's not clear if she will be able to conceive again.
The office of the First Lady said in a statement of her chosen SOTU guests (which include Bono, oddly): "Each of these individuals were invited by the White House because they personify issues or themes to be addressed by the President in his speech, or they embody the Biden-Harris Administration's policies at work for the American people."
So it's unclear how much Biden will talk about abortion tonight, but it does appear that he will address it in the first SOTU speech since the Supreme Court overturned Roe v. Wade.
There will also be other abortion-related guests at the speech tonight: A Florida woman forced to fly to Washington, D.C., for an abortion will attend with Rep. Debbie Wasserman Schultz (D-Fla.), and abortion provider and Physicians for Reproductive Health president and CEO Jamila Perritt will join Rep. Nydia Velazquez (D-N.Y.).
We await Biden's words on the subject with bated breath.