The inevitable lawsuit has been filed against Billy McFarland and Ja Rule for their part in the disastrous Fyre Festival, an event that promised Bella Hadid and luxury catering, but only provided feral dogs and FEMA tents.
The organizers of Fyre Festival had reportedly been warned over and over that there's was no way in hell that an event of the size they were planning would be ready in time for their scheduled date, a warning that proved all too true. In case you've somehow missed the rough outline of what happened, attendees arrived to find unassembled tents instead of cabanas, and little in the way of food, water or even toilets. It also seemed like most acts cancelled before they even attempted to fly to the Bahamas, so there was certainly no music. Ja Rule tweeted on Sunday that at the very least, everyone who made the trip was now safe:
On the down side for those safe guests, Stereogum reports that the event's Twitter account (which only became active after disaster struck) is indicating that people who want their money back will need to apply for a refund:
G/O Media may get a commission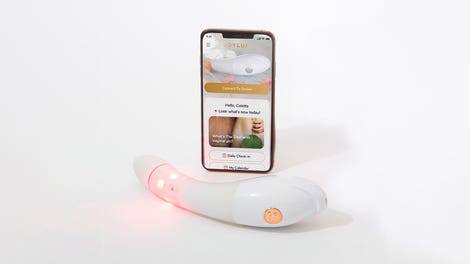 $50 Off
Joylux vFit Gold Device
And according to The Wrap, lawyer Mark Geragos—who has represented people like Winona Ryder and Chris Brown—is doing one better and filing a lawsuit, representing a man named Daniel Jung who paid $2,000 for a ticket and airfare to the Bahamas:
The lawsuit covers all plaintiffs in the same situation as Jung, and alleges that some paid up to $100,000. It seeks damages "in excess of $100,000,000.00."
The suit makes reference to the now infamous viral photo of a cheese sandwich and salad (no dressing) offered to one festival goer, and the more damning news that certain celebrities and Fyre staff members were warned to stay away in advance of the event:
Most distressingly, the suit alleges that Rule and McFarland began "personally reaching out to performers and celebrities in advance of the festival and warned them not to attend—acknowledging the fact that the festival was outrageously underequipped and potentially dangerous for anyone in attendance."
Both Ja Rule and Billy McFarland have apologized in epic non-apology style, the former declaring the horror show NOT his FAULT, the latter blaming it on a "bad storm." But per a column in a local Bahamas paper, Tribune 242, it is clear that the nightmare of inadequate preparation and inexperience was just one aspect of the arrogance displayed by McFarland and other organizers. Fyre Fest was apparently told ahead of time that they were planning their event for the same time as the George Town regatta, a time-honored tradition in the area:
The end result is that, for the vast majority of Exumians, the festival appeared as if it was attempting to usurp our beloved George Town Regatta by directly competing for the visiting tourists and locals with scantily-clad, wannabe models, NFL stars and recording acts.

Let's put this into perspective ... Imagine for a minute if thousands of Bahamians in Junkanoo costumes with cowbells, goatskin drums, Bacardi, Heneiken, Kalik and Sands Beer in tow, descended upon Palm Springs demanding all hotel rooms, guest houses, taxi, buses and RV parks - which had already been previously booked in advance - and informing the Mayor that we ain't checking for Coachella this year, we "Jammin' island style" and everyone can roll out?
That actually sounds like a great party.