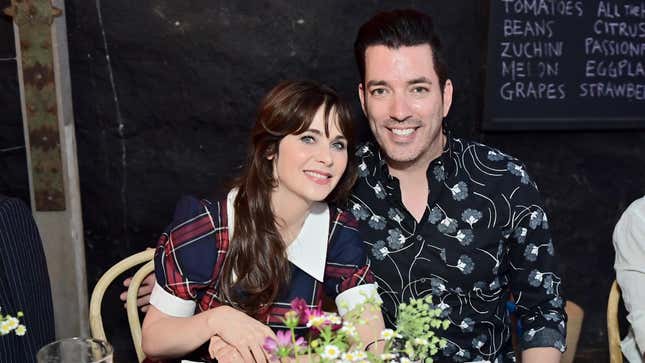 Some relationships start on rocky terrain. (Ariana and SpongeBob seemingly did not let their spouses, or newborn baby, get in the way of finding love.) Personally, I met my partner days before covid lockdown, which all but annihilated a honeymoon phase. But I think nothing can really compare to the dark and torturous place Zooey Deschanel and Property Brother #1 (legal name: Jonathan Scott???) met: filming an episode of Carpool Karaoke.
As Zooey pretended to steer a brand new Range Rover Sport while singing a mashup of "Baby It's Cold Outside" and "Baby One More Time," she seemingly won over the ProBro. The episode was sibling themed (???) so as these two lovebirds' palpable crush energy flourished in the front seat, Emily Deschanel and Property Brother #2 made desperate small talk in the back. I think it might set off the world record for the most second-hand embarrassment a one-minute video can produce
But get this: now these two are getting married. Cue Rihanna's "We Found Love In a Hopeless Place," or better yet, have Deschanel strum it on the ukulele while ProBro shoots a nail gun into some shiplap to the beat. On Monday, the couple, who have been dating since their fated meeting in 2019, posted a joint Instagram with the caption, "Forever starts now!!!" with Deschanel holding up her hand in the pose while showing off a ring that takes up considerable hand real estate.

I remember exactly where I was when I learned the Princess of Twee and a man who looks like off-brand John Mulaney got together. Sipping a warm beer at a bar in Brooklyn—I saw the news on Twitter and it stopped me in my tracks. "What an odd couple," I thought to myself. Aside from both signing up to sing with their sibling in a James Corden spin-off show on Apple Plus, what did these two have in common? Brown hair? An ability to peeve me for literally no reason at all other than they seem too nice?
At the risk of sounding too harsh, ProBro seemed like such a pedestrian choice for Zooey. While I am glad she ended her first marriage for whatever reason (because I support divorce!!) with Death Cab for Cutie frontman, Ben Gibbard, that seemed like a much more logical match, right? The man whose lyrics I carved into my desk getting together with the woman who launched a thousand risky bangs haircuts? An indie match made in heaven. Even her second husband, producer Jacob Pechenik, gave us The Skeleton Twins, which The AV Club called a "compendium of indie-movie clichés."
A man who rose to fame on HGTV surely couldn't capture the heart of America's manic pixie dream girl. What is he going to do? Renovate her a home in which she can display all her vintage chandeliers? (That's exactly what he did...)

But they seem to really, really love one another. "Eight months into our relationship, I already knew Zooey was the yin to my yang, the PB to my J," ProBro wrote in an essay for People. "We were on parallel paths toward the happiness we'd been seeking our whole lives." Barf!
In the multiple interviews I've watched of her describing their love—of which there are...a lot—the overwhelming sense I get is that she loves how "nice" he is. In order to really emphasize just how nice she finds him, please consider the following transcript from her interview with Drew Barrymore on The Drew Barrymore Show.
[Zooey] "I couldn't believe he was so nice, like I went to say hi and I hadn't met him before but he had like messaged me on Instagram just saying "oh I'm looking forward to meeting you."

[Drew] "That's nice."

[Zooey] "He's just nice like that. So I went to meet them and I was like I can't believe he's so nice. He's just the nicest person. You know people just aren't that nice generally. He's just so nice. We've been together over three years and he's still that nice. He goes over and fixes stuff at my parents house. He's so nice. He really is."
Sure, I'll believe it! I'd love one single descriptor other than nice but I understand that I am simply not owed that. Nice will suffice, though admittedly it's about as dull a descriptor as I find the two ProBros. Alas.
Best wishes and matching flannel pajamas to this frankly astoundingly norm-y couple. It will never not shock me that they met while filming Carpool Karaoke, which seemingly caused their souls to truly recognize one another. Love continues to be so mysterious.