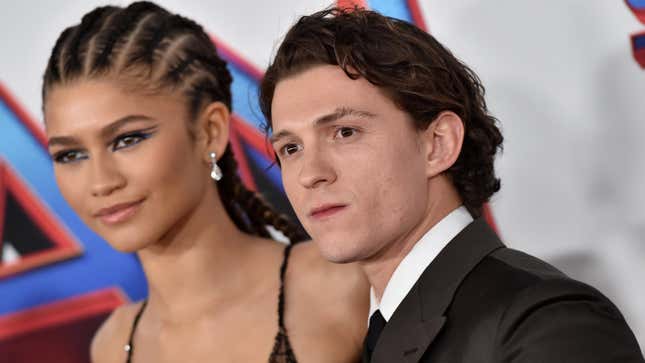 Celebrity breakups don't often faze me anymore, but I will admit: I'd be fairly devastated if Tom Holland and Zendaya split at this point—if for no other reason than Tom Holland's pants. Allow me to explain.

Is Emmy Rossum Old Enough To Play Tom Holland's Mom?
Earlier this week, Holland and Zendaya were photographed buying groceries, getting coffee, walking Holland's dogs with his parents—in other words, being very normal people. Now, zoom in on Holland's pants in the photos, and you'll find they're just his latest pair to have a "Z" stitched on the back pocket—a public declaration to the world that Zendaya owns his ass, the internet has theorized. And I, personally, find the not-so-subtle PDA adorable. Can you imagine the tragedy of these two breaking up—all the straight-leg jeans and khaki pants Holland would have to throw out, on top of losing someone he seems to love very much??
Fans first noticed Holland's penchant for using the back pockets of his pants to remind the world he is Zendaya's man last summer, when a photo of him went viral after eagle-eyed social media users spotted the "Z" on his jeans, particularly cackling over its placement. Now, it just seems to be a staple of his wardrobe. Excessive PDA can be cringey, but I can be more understanding than usual if you're dating Zendaya.
A running internet observation is that Holland and Zendaya—first romantically linked after they began filming their first Spider-Man movie together around 2016, only to split at some point and then hard-launch their relationship shortly before the most recent Spider-Man released in 2021—casually invert typical gender roles in heterosexual relationships, namely through their height difference and openness about it, but also, all the truly precious photos of Ms. Z looking very protective of her man. See:
That, to me, is part of the charm of Holland's Z-embroidered pants—I can't help but read it as a signal to the world that he belongs to her and wants us all to know it, not unlike the trope of a cheerleader wearing her football-playing boyfriend's letterman jacket. Only Holland and Zendaya pull it off without being tacky.
What can I say, I'm rooting for them!! And I very much hope that Holland gets to live out his stated dream of stepping back from work and becoming a stay-at-home dad in the near future. May Tomdaya last forever and Holland never be forced to acquire new pants!!