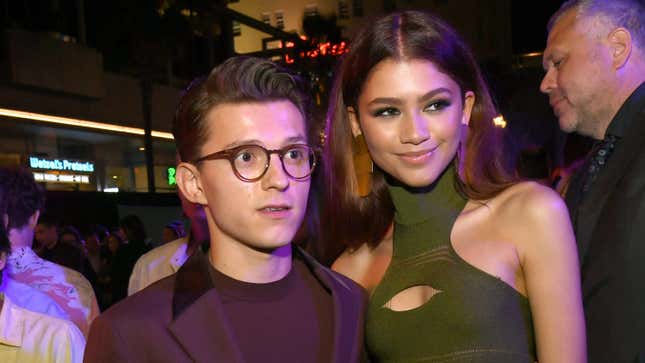 "Zendaya, Tom Holland finally confirm they're dating with steamy car makeout," reads the Page Six headline, while Bossip quite confidently declares that "Zendaya & Tom Holland Finally Confirm Their Long-Rumored Romance With A Kiss." But all I'm seeing are some sneakily shot paparazzi pics of two hot twentysomethings sucking face in a car? Where's this alleged "confirmation" everyone keeps going on about? Is he in the room with us right now? If making out in a car was enough to mean that two people were dating then I guess I'm dating that divorced dad from Long Island I went on one date with last October. Mike or possibly Matt... The love of my life... Call me back...

Is Emmy Rossum Old Enough To Play Tom Holland's Mom?
---
Tyler Posey of Teen Wolf fame confirmed that he's queer and sexually fluid, which isn't exactly new information if you've been paying attention, but I do think it's the first time he's publicly put those specific terms to it? [NME]
One of the stars of Luca came out, too! Jack Dylan Grazer, a.k.a., the one who says "Silenzio, Bruno!" in the Pixar animated film, said that he's bi and that he uses he and they pronouns in a recent Instagram Live. [Pink News]
Brandy and JoJo collab incoming!!!! [Bossip]
End the conservatorship!!!! [TMZ]
This Trinity K. Bonet x Laganja Estranja lip sync....just.....incredible.....