It's not often that I get the chance to begin a Dirt Bag with the scandalous story about a gay YouTube star who was caught faking a hate crime in West Hollywood after VidCon, but here we are.
Calum McSwiggan is a moderately famous 26-year-old YouTuber (it's completely understandable if you've never heard of him) who makes videos with titles like "Straight Guys See My Nudes," "Gay Guys Embarrassing Sex Secrets," and "Gay Love Story: My Hot Australian Boyfriend."
On Tuesday, he uploaded a photo to Instagram that purportedly showed him recovering from an act of hate-fueled violence:
McSwiggan captioned the photo:
Last night was the worst night of my life and I'm really struggling to find the words to talk about it. After one of the most wonderful weekends at VidCon we went out to a gay club to celebrate, and towards the end of the evening I was separated from my friends and beaten up by three guys. The authorities should have been there to help and protect me but instead they treated me like a second class citizen. With three broken teeth and six stitches in my forehead, I've never felt so terrified to be a gay man in the public eye. All I can do is thank my wonderful friends @riyadhk, @melaniiemurphy and @douga_ for being with me the whole way. I'd be lost without them. Right now I don't feel that I'm in the right place to talk about this but I will be addressing this fully in the future.
G/O Media may get a commission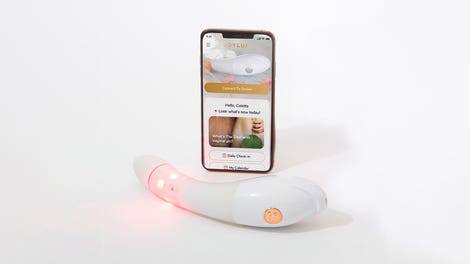 $50 Off
Joylux vFit Gold Device
It's a devastating account of a hate crime—one made all the more disheartening after the tragedy in Orlando. The only problem is that the LAPD is saying it never actually happened.
Writes The Advocate.
Officers "were unable to substantiate the assault." ...The YouTuber "had no visible injuries" and was arrested when officers went to the scene "after deputies observed him vandalizing a car." The 26-year-old was booked and photographed (photo above) and placed in a cell by himself at the West Hollywood Station. It was there that station personnel say McSwiggan "was then observed injuring himself with the handle and receiver to a payphone inside the cell."
The LAPD's claim that McSwiggan was seen injuring himself after taking his booking photo probably explains why the booking photo looks like this:
McSwiggan has yet to comment on the LAPD's statement, but has tweeted that the silence is "killing" him.
It's looking like the Whole Foods cake all over again.
[ONTD]

---
John Mayer, regrettable ex to the stars, is all grown up. In an appearance on Watch What Happens Live!, the singer (who's currently involved in some kind of Grateful Dead tour) was asked about his "current dating status."

He said:
"I'm ready to roll, I'm more mature than I've ever been. The stage is set but I'm excited for a meet cute at some point. I'm single and I'm excited about the future."
"Meet cute" doesn't sound like the right term for a serendipitous introduction to a future romantic partner. I think John Mayer's exes usually refer to the moment they met him as "the beginning of the end."
[People]
---
Adam "Calvin Harris" Wiles is fine.

---
---
Images via LAPD / Instagram / Snapchat.