Over the weekend, in the midst of the outrage that followed the news of ex-Stanford swimmer Brock Turner's very lenient sentence for multiple felonies, including attempted rape, some wondered why stories of Turner were illustrated with yearbook photos or stills from the video of his trial.

The yearbook photo, in particular, was a troublesome illustration. Turner, smiling at the camera in a suit and tie, looks every bit the "once-promising" Division I athlete rather than a felon. The images paint a sympathetic portrait of Turner who, by all accounts, should be deeply unsympathetic; a man who, according to his victim, shows no signs of repentance, who instead blamed his actions (attempting to rape an unconscious woman) on hook-up culture and alcohol. But, as a letter from Turner's father revealed, the apple doesn't fall far from the tree.
The Inquisitr notes that a Google image search turns up many photos of Turner—Turner the swimmer, Turner the student, Turner on trial—but none of his mugshot. Basically, his mugshot doesn't exist, but that appears to be purposeful. The Santa Clara County Sheriff's Department, who booked Turner, has made the decision not to release his mugshot. The website Crimefeed notes that, under California's open records laws, mugshots should be released, but the laws are a bit murky. According to the site:
The language does not explicitly stipulate whether the release of booking photographs (i.e. mug shots) is required or exempt. A 2003 opinion from the Attorney General reportedly said that "mug shots fall within the 'records of investigations' exemption" and therefore releasing mug shots to the public is up to the discretion of law enforcement. However, according to the First Amendment Coalition, "the California Supreme Court has explained that this exemption applies only to a record that 'on its face purport[s] to be an investigatory record.'"

The nonprofit goes on to state: "Arguably, mug shots are not on their face records of an investigation, and may not be withheld under the investigatory exemption except where they are legitimately used for investigatory purposes."
A spokesperson for Stanford said that the Santa Clara County Sheriff's Department did, of course, take a mugshot of Turner after his arrest but the department will not be releasing it. They did not elaborate on why the photograph is being withheld from the public.
It might seem petty to wonder where Turner's mugshot is, but that particular kind of photograph codes a body with greater clarity than perhaps any other genre. Born of late-nineteenth-century eugenics, the mugshot's very purpose is to create a criminal body and to inventory it for later use and possible reference; the photographic genre, though deeply mundane and familiar, is powerful in its very mundanity. It effectively tells us, in a single frame, what exactly we need to know about a person: in this case, it would say that Turner is a felon, that he is a criminal. But stories of Turner illustrated with school portraits resists the visual classification of him as a criminal body; in effect, the absence of a mugshot preserves his promising reputation.
G/O Media may get a commission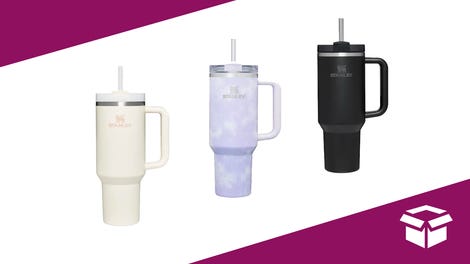 Up to 45% off
Stanley Cup Sale
There's inevitably a racial element to withholding the mugshot, as well. In April 2015, an Iowa newspaper was heavily criticized for showing the yearbook photographs of three white suspects who had been arrested for possession of stolen property. Black suspects, arrested for similar crimes, had their mugshots used instead; a persistent reminder that the photograph is never neutral, neither in its selection nor implication.
Mugshots fundamentally convey who a person is (or, what they have done, at least); they make them suspicious and criminal. The same holds true from the representation of Brock Turner's body, a not-so-subtle nod to his character. On Twitter, Kelly Ellis pointed out the effects of that disparity in the Washington Post:
Perhaps wondering where Turner's mugshot is, as well as wondering why the Santa Clara County Sheriff's Department won't release the photo, seems beside the point. But it's not. It's yet another way that our system of justice colludes to protect the promising futures of a particular kind of man, ensuring time and time again that those futures are never "once-promising," that they are always promising, and that their reputations are never truly tarnished.
Update: The Santa Clara County's Sheriff's Department released Turner's sentencing photo on Monday afternoon (the booking mugshot was released later that night, and this post has been updated again to note the difference). The Sheriff's Department told The Cut that Stanford's Department of Public Safety was responsible for releasing the photograph. Stanford previously claimed that the SCCSD was responsible for releasing it. At any rate, here's that photo.
Turner in court. Screenshot via ABC 7