Out of two beloved judges and two beloved hosts, only judge Paul Hollywood—hyper-masculine, exacting, crispy-of-hair—opted to move with The Great British Bake Off from BBC to the dreaded Channel 4. Britain, as far as I can tell, remains in an uproar. Would you let him fold your flaky pastry?
Paul Hollywood, who had a well-documented affair in 2013 with his co-host on the failed U.S. version of Bake Off, is charismatic in an irritating way, the kind of man who lopes his fingers in the belt buckles of his extremely tight jeans and pushes his pelvis forward before informing you, with a twinkle, that your sponge is raw ("your spohnge is roh"). Runner-up Ruby Tandoh, who was accused of "flirting" with Hollywood to move up on the show (she later came out as gay), called him a "peacocking manchild lingering wherever the money is." Anna Kendrick, appearing on the Graham Norton Show, said of the show's split: "It immediately turned Mel and Sue into folk heroes, and we're all so proud of Mary for following suit, and then it's like, of course Paul stayed, with your bread and your goatee."

Paul Hollywood is a walking can of Axe and a villain in his own (emotionally and otherwise fragile) country, and yet—and yet. He has...a quality. He is...very confident. I can't...help it. Even with the goatee. What do my coworkers think?
Joanna: That's a no from me.
Aimee: The eyes are a yes, the beard is a no.
Kelly: I mean does Mary Berry make us a victoria sponge afterward?
Madeleine: I would not fuck Paul but I would rest my head in Mary Berry's lap and let her read to me.
G/O Media may get a commission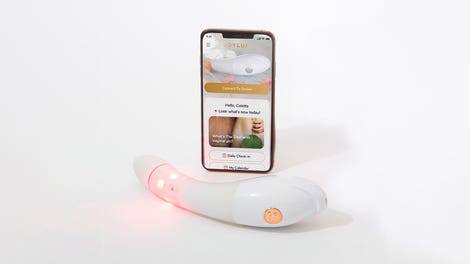 $50 Off
Joylux vFit Gold Device
Madeleine: I'd also probably fuck Sue Perkins, honestly.
Aimee: It looks like he smells like cologne.
Bobby: I mean, sure. Why not.
Bobby: British Bake Off! One time! Who cares.
Gabrielle: Yes, I would.
Anna: Do I get cookies out of this? Or any kind of baked good? Like a little slice of pie?
Brendan: Or a nice big sausage :)
On your marks, get set, WOULD YOU?

Last time on Would U?, we asked: Would you have sex with someone who lives in a crawl space? 40% answered "No, I refuse on principle: My sex partner should be able to stand up in their home"; 22.6% answered "Yes, if it was the guy from Outlander or equivalent"; 13% said "Yes—that bothers me, but I know myself, and I still Would"; 12% said "No, I refuse on practical grounds: I'm not trying to get concussed"; and 5% answered "Yes, that doesn't bother me at all."