As Guillermo del Toro's The Shape of Water churns through the awards circuit, an unanswered question has been left lingering in the air, swirling and winking around like a constellation of magical blue lights. Would you bang the fish guy?
According to Sally Hawkins' character in The Shape of Water, fish man is a good lay. On the other hand, he eats cats and has the face of a more water-oriented Voldermort. On the third hand, would you honestly turn down a literal god if he initiated a moment of intimacy?
G/O Media may get a commission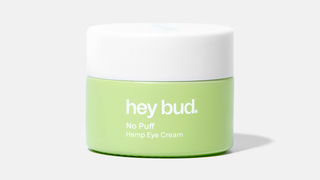 15% off
Hey Bud - No Puff Hemp Eye Cream
This question rocked the Jezebel staff, sending shockwaves from our Manhattan office all the way to Taiwan, where staff writer Megan Reynolds logged on to say:
"Hey girl just weighing in from last day of vacation I WOULD NOT fuck the fish man I am unclear about his genital situation and he might be slimy!!!!"
I envy Megan's sense of clarity. I do not share it. Below is an exclusive look at Jezebel's symposium on the matter of whether or not we would fuck the fish man:

Joanna Rothkopf: I for one am a definite yes.
Ellie Shechet: I am waffling.
Kelly Faircloth: If I lived in that town I DEFINITELY would.
Joanna Rothkopf: Yeah, I mean, I wouldn't do a long distance thing.
Kelly Faircloth: Actually wait, it's Baltimore not some one-horse town so I guess my pickings are probably not bad.
Clover Hope: Yes. Because I'm really curious.
Julianne Escobedo Shepherd: I absolutely would not but I feel confused whether it is bestiality because fish man can consent and did.
Joanna: The fish man is a god of course he can consent.
Ellie: Was he hotter by the end of the movie or was it my imagination? He seemed more "man-like."
Joanna: He was hot.
Kelly: Lots of extremely adventurous Kindle unlimited novels have conditioned me to say: yes, probably.
Julianne: I don't believe in gods.
Lindsey Adler: Yeah I need to know more about the local offerings of not-fish.
Joanna: His penis is also a retractable telescope.
Lindsey: And also I'd need to see the dick.
Madeleine Davies: I Would the fish god before I Would the actor who played the fish god.
Ellie: I would if he like, fixed all my flaws.
Joanna: Yeah he would put his fish hand on my abs and give me a 6-pack.
Julianne: Charles would you fuck the fish man?
Charles Pulliam-Moore: No.
Clover: That one line about the retractable penis made me very curious.
Lindsey: SAME CLOVER. I need to know the mechanism.
Kelly: I mean sometimes it's worth taking the dick for a spin because if nothing else you get a good story.
Madeleine: I Would the fish man. In water, but not out of water.
Lindsey: It might make for good blog content actually.
Joanna: Look at those arms.
Kelly: Try anything once, that's what I say.
Aimee: I bet he's incredible and he can hold his breath underwater...for a long time...so you know what that means...
Jennifer Perry: Hell—to the naw.
Stassa Edwards: I would not because it seems too challenging and I'm old.
Phoebe Bradford: He's got a nice fish bod so yes.
Aimee: (oral sex)
Madeleine: I wouldn't want to do the fishman on dry land.
Jennifer: *plucks scales from pubes*
Madeleine: But in a pond or hot tub? Sure.
Stassa: What does fish man smell like?
Kelly: The OPEN OCEAN, Stassa.
Joanna: Maddie he wouldn't want to do you on dry land FWIW. He couldn't survive.
Kelly: He smells like SALTY FREEDOM.

Stassa: Which ocean, Kelly?
Aimee: He wouldn't die for it.
Madeleine: Oh HE'D DIE 4 IT, ALRIGHT.
Kelly: (I mean realistically he probably smells like the pile of oyster shells outside a gulf coast processing plant.)
Aimee: Would U let the fishman die mid-coitus with you?
Lindsey: Yeah what is the UTI situation?
Ellie: I would only be attracted to him in his natural context of water.
Joanna: I have also heard having sex in the pool is bad.
Aimee: Honestly, a woman only gets so many opportunities to make love to a magical half man half beast. I already said no to that centaur... this would be my chance.
Clover: Wouldn't you feel good if after you did it on land, he died. Like because it was good.
Ellie: True...
Julianne: Omg right think about the STIs you could get from fish god.
Joanna: He would cure them all!!!
Aimee: You never have to use condoms with fishman.
Julianne: Also can fish man impregnate you??
Lindsey: In a world where you can fuck a fish...do UTIs exist?
Joanna: He is an infinity supply of doxycycline.
Ellie: I Would get pregnant with fishman's baby. Just to see what comes of it.
Aimee: That's a very different Q.
Ellie: Yeah but it's related.
Joanna: "To see what comes of it" ...brave.
Stassa: How would you raise a baby in the water?
Aimee: I will not stop my life and my CAREER to spawn a bunch of fish babes.
Stassa: Would you have to like clean a tank?
Ellie: I'd cross that bridge when I came to it.
Stassa: Mom Ellie, scrubbing a fish tank everyday for her hybrid babies.
Julianne: I wonder if you get preg with fish man he would have to turn you into a fish woman so you didn't die, like Bella in Twilight.
Julianne: Also
Julianne: Would you lay eggs?
Kelly: Okay this is where I absolutely want to get off the fuck bus.
Stassa: Too late Kelly, embrace your SALTY FREEDOM.
Madeleine: Kelly, please hold the door for me.
[minutes later]
Madeleine: When reading Harry Potter, did you ever wonder how Hagrid's dad fucked a giant?
Joanna: No Maddie I didn't.
Joanna: But now I do!
Rich: Ok, yes Ellie. Just for the story, and to see the dick. What's the dick like? But it wouldn't be a romantic scenario at all. We would strictly be using each other.
Clover: He's very romantic though. Doesn't talk...
Rich: Well, he's just gonna have to turn off that stream with me.
Joanna: The D is a retractable telescope...
Joanna: And he lives in a tank
Joanna: And he's green with powers.
Joanna: = 3 ingredients for a dream man.
Anyway. What do you think?

Last time on Would U?, we asked: Would you have sex to Jared and Ivanka's (possible) 21-minute fuck playlist? 5% answered "Yeah, sure, why not?"; 18% said "No, but I guess I would give a sad handjob to this"; 36% said "If by 'sex' you mean 'weep silently in my partner's lap'...then yes"; and 41% said "Fuck no!!!!!!!"