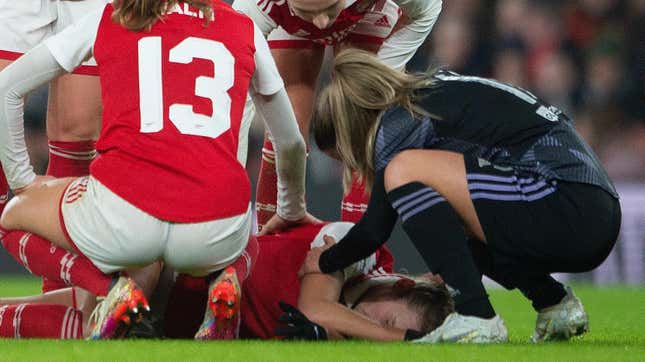 During the July 28 FIFA Women's World Cup match between England and Denmark, midfielder Keira Walsh went down hard while reaching for a pass. She came up mouthing words that would unease most athletes, especially professional ones: "I've done my knee." Walsh is a key part of England's footy game, but she was even more important going into this World Cup. Prior to the start of the tournament, which kicked off in Australia and New Zealand in mid-July, three other English players were out of the competition, all for the same reason: ACL, or anterior cruciate ligament, tears. Many believed they witnessed Walsh become the fourth English player to get taken out by her ACL.
Between 25 and 30 professional women's soccer players missed this year's World Cup because of ACL injuries, according to Sky News. The outlet also reported that women athletes are 2.5 to 3.5 times more likely to tear their ACL than men, while Yale Medicine suggested it's two to eight times more likely. The injury is so commonplace that Nike spent two years working on a cleat designed specifically to help women players avoid devastating knee injuries. But not enough has been done to prevent the injury from plaguing players and destroying their World Cup dreams.
Despite returning to the sidelines on crutches, Walsh, luckily, did not tear her ACL. But the specter of the devastating injury (which involves a key rotational knee stabilizer and, on average, requires a year of rehabilitation after surgical repair), looms over the entire tournament.
In May, Katie Rood of New Zealand wrote on Instagram, "I'm sad to say that I've joined the ever-growing ACL club." That club currently includes U.S. Women's National Team's Catarina Macario, who tore her ACL last fall; the USWNT's Christen Press, who recently revealed she'll need a fourth surgery to repair an ACL tear she suffered in June 2022; the Netherlands' Ballon d'Or winner Vivianne Miedema; Canada's Janine Beckie, who helped lead them to gold at the 2020 Summer Olympics; and France's Marie-Antoinette Katoto and Delphine Cascarino.
These are just the most recognizable names, the players who have huge endorsements, whose faces you see on billboards around the globe. But there are dozens more players still facing recovery—nearly 60 women across all of Europe's leagues tore their ACLs in the last season alone, according to The New York Times.
"There's been way too many women's players who have had ACL injuries and not enough research that's been done about it," England defender Jess Carter told Sky News before the team left for the World Cup.

Frustratingly, there is still contention amongst scientists over why women are more prone to these injuries than men. "There are obvious anatomical differences" between men's and women's knees," Martin Hagglund, a professor of physiotherapy at the University of Linkoping in Sweden, told the NYT. Some suggest that women's wider hips result in less stable knee structures, others suggest the ACL is smaller in women and therefore more prone to tears, while still, others point to menstrual cycles as a potential cause.

Blaming ACL tears solely on our biological makeup, however, is inherently problematic. It suggests women athletes are taking on more risks playing sports just because they're women. It also conveniently ignores the giant elephant in the room: The world still doesn't value women's soccer enough.

I tore my ACL playing soccer when I was 24 years old. I've not been the same, physically or mentally, since. Nearly ten years later, I still have pain in the front of my knee where the surgeon harvested my patellar tendon in order to create my new ACL. My explosive speed, which so often got me out of bad situations or into great ones, is gone. And the area where my meniscus was trimmed away (which is also often damaged during ACL injuries) still sends shooting pains up through my thigh during every workout.

During rehabilitation, I went through grueling post-surgical workouts (which included intense stretches to recover my range of motion, isolated exercises to build strength back up, and the manual breakdown of down scar tissue by my physical therapist that was so painful I nearly fainted) alongside girls in their late teens. One 16-year-old girl was on her second ACL reconstruction; both tears had happened in competitive soccer matches.

In July, the Netherlands' Miedema said FIFA should take more responsibility when it comes to this issue. "I think they're probably the ones that can drive the change in the schedule most," she told CNN. "I think we don't understand that sometimes it's about protection of players instead of getting the money in or making it entertainment." She also suggested that the soccer world would be looking at ACL injuries much more closely if men were dealing with them as often as women. "Imagine having four ACLs at Man City [men's team] this season – there would be a massive thing about it."

From grueling schedules that don't include privately chartered airfare (during which players could recover more, Megan Rapinoe suggested) to a persistent lack of team resources like more trainers, physical therapists, and nutritionists, professional women's soccer players are consistently pushed further and faster, without enough to support them while doing so.

Just like when the USWNT fought tooth-and-nail for pay equality, high-profile tournaments like the Women's World Cup serve as sobering reminders that, when it comes to women's soccer, those in charge need to step it the fuck up.