When Tom Ford guest edited Vogue Paris' Holiday issue, he put in an editorial that's a little unusual for a fashion magazine: it features only "mature women" who haven't gone under the knife.
"He very much likes beautiful wrinkles," said Vogue Paris editor Carine Roitfeld. The above shots of Lauren Hutton and Lisa Eisner, both — naturally — clad in Tom Ford women's wear, aren't part of the beautiful-and-wrinkly editorial; they're part of a spread dedicated to Ford's "muses." But if the way Hutton is depicted — and the coolest thing about that photos is obviously that Hutton's neck kind of looks like a real 67-year-old woman's neck, something I never thought I'd see in a fashion magazine — is any indication, that's an editorial I look forward very much to seeing.

Of course, if the cover of Ford's issue of Vogue Paris were any indication of its contents, then the entire magazine would be filled with 14-year-old girls in what Women's Wear Daily generously (or prudishly) describes as "ecstatic" poses. Daphne Groeneveld is a Dutch model who was born on December 25, 1995. Groeneveld, who's leaning against Ford in a kind of sexual faint, is posed and made up to look like another, more famous model — Lara Stone, who at 26 is old enough to make looking at her O-face in a magazine not disturbing. But that's fashion: one girl works, and then, magically, younger versions of her start getting promoted through the industry's ranks.
Ford recently claimed to American Vogue that his women's wear line is "about individuality. Real clothes, real women. For a fashionable woman aged 25 to 75." But no designer ever tells a journalist that he's out to dress bony adolescents who top 6'2" in heels and who don't regularly shop for $3,000 blazers; designers always say they're about the "real women" and the fashionable-at-any-age shtick.

G/O Media may get a commission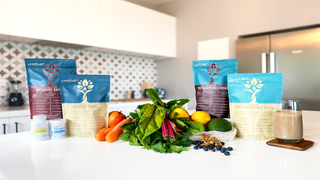 Interestingly, the next issue of V magazine also has a spread shot by Cedric Buchet that features women who left high school more than a generation ago. (Many of them, including Carol Alt, Emmanuelle Seigner, and Visionaire co-founder Cecilia Dean here, were at one time models.)

Pat Cleveland, 58, pictured at left, is legendary as one of the most prominent black models of the 1970s. Once I was introduced to her at a fashion party, and she told me about Andy Warhol, and how there's an island off the coast of Italy that is inhabited only by nuns, except for when it's having a poetry festival, when it has nuns and poets, and the only sounds are autumn leaves crunching underfoot and people reading their work aloud. It was amazing.

Is fashion starting to give more attention to "older" women? I'm not totally convinced. (Although I loved seeing Ines de la Fressange on the Chanel runway this season.) But even if the industry is taking baby steps towards age inclusivity, I can get behind that as a goal.
Tom Tom Club [WWD]
V: Cecilia Dean, Carol Alt, Pat Cleveland, and Emmanuelle Seigner [Racked]