I pulled my back the night before I went to check out what it's like to train to become a New York City firefighter—good thing for me, because I'd originally thought I'd try the workout myself for this story. Had I followed through, I think I probably would have died, or at least felt like I wanted to. Ironic, given that the intention of the job is to save lives.

To qualify for the firefighter exam—which is only offered every four to five years—you must first meet the eligibility requirements; for instance, only those between the ages of 17.5 and 28 can apply. The process between applying and being hired as a firefighter is extensive. After you apply for the written exam, those who pass are ranked in order of score, and then interview. Then comes the physical test, called the Candidate Physical Abilities Test (CPAT). After that comes medical and psychological testing, drug testing, and a background check. Only after all that do you have the potential to be hired, which only happens if a spot opens up, which could take years. All firefighters are also required to get first responder certification, and then once a position opens, go through Fire Academy before becoming a "probie." As you can probably tell, all of this takes a long time, which is why the test is administered so infrequently.
This means, however, that there are limited opportunities to get more women into the FDNY. As my colleague Anna Merlan has chronicled here and elsewhere, the FDNY has remained remarkably undiverse, particularly given the city it serves. Following April's Fire Academy graduation, there are now 64 women out of over 10,000. As FDNY Fire Commissioner Daniel A. Nigro noted "proudly" at the ceremony, that means that "more women serve as New York City Firefighters today than at any point in our history."
That's something, but those low numbers speak for themselves—particularly when United Women Firefighters President Sarinya Srisakul tells me that's "the lowest percentage of women out of all the major departments in the United States." UWF is a group devoted to supporting women FDNY firefighters, and in partnership with New York Sports Club (which supplies space as well as 90 days of free membership), the Fire Foundation and the New York Women's Foundation, they provide year-round, thrice weekly training to women who are interested in joining the force.
G/O Media may get a commission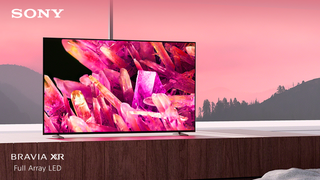 $400 off
Sony 55 Inch 4K Ultra HD TV X90K Series
Normally, my trips to New York Sports Club include more activity than it did when I went to check out the program this week—unless for some reason I get credit for the work I watched happen, in which case, it was considerably harder. Srisakul, who was the first Asian-American woman to be hired by the FDNY, runs the training with NYSC trainer Anwar Hafeez. Joining them that day was newbie Constance Fripp, who trained with UWF for two years and had just graduated from Fire Academy. The three worked with about a dozen women, including a couple first-timers, all wearing the required red t-shirt, which made them stand out from the non-superheroes doing normal people workouts around them. Before they got started, I was immediately struck by the camaraderie between these diverse women. Fripp was the center of attention, seemingly energetic from her graduation—she's now at Engine 283 in Brooklyn—and doling out the wisdom of someone who's been through the program and can attest to its value.
This is going to sound deeply cheesy but I'm fine with it because it's true and awesome: watching these women support each other was the highlight of my week. They helped each other set up weights, assisted in pull-ups, gave each other training tips—all while listening to a very solid playlist of jams. They likely needed that extra motivation—I was amazed at the stamina, particularly that of the women who you could tell have been training for awhile, doing multiple sets of combinations (sometimes in 50 lb vests) I definitely could have maybe done one of (as I recall it, 20 burpees, then hold 45 pounds above your head for an extended period of time). It was probably the hardest workout I've ever seen, which meant that the first-timers struggling to get through it impressed me all the same.
When I asked Fripp why she wanted to be a firefighter, she described herself as someone who was always a "helper." There's something so genuine to that, and to the no-nonsense way these women were doing that with each other, obviously with regards to the physical aspect of the job, but also in the support they provide each other as woman in a field so dominated by men. "Even when we are harsh on them, we always encourage them to not take it personal and to come back," Srisakul told me.
The deadline to apply to become an FDNY firefighter closes this coming Wednesday, May 10 and costs $30; for interested parties, UWF is doing an open house Sunday. As I was leaving, Srisakul reminded me that I too still have time to apply. "You could be a journalist firefighter," she said, seemingly not altogether joking as I laughed at the idea.
I'm thinking about it.
Video by: Creative Producer Jorge Corona, Producer Phoebe Bradford