In June, we told you about a lawsuit that accuses Donald Trump of raping a 13-year-old girl, and the bizarre backstory about how the allegations hit the public eye. The complainant, identified as "Katie Johnson," still hasn't spoken publicly, and the reality TV producer pushing the allegations has been accused in the past of making outlandish claims. Today, Johnson's attorney announced he was filing to dismiss the suit, but said a new complaint will be filed, and "an additional witness" will be identified.
"Katie Johnson" is the pseudonym the complainant used in a California lawsuit, which was dismissed. She refiled the case in New York under the name Jane Doe. All of Jezebel's efforts to reach her—both through her attorney, Thomas Meagher, and through a man calling himself "Al Taylor," a former reality TV producer—have been unsuccessful.
The Guardian found compelling evidence that Taylor is actually Norm Lubow, a former Jerry Springer producer. The Guardian's Jon Swaine found that former Springer guests accused Lubow of "staging their fights and encouraging them to fabricate wild stories," as well as a 1995 New York Post story that says Lubow posed as a drug dealer who said he'd sold drugs to OJ Simpson.
Taylor denies that he is Lubow. The last time we spoke at length, he told me to "suck my dick" and said that I was assigned this story because I was sexually involved with a former Gawker reporter (I'm not). A man I believe to be Taylor spent much of the summer calling me repeatedly, often dozens of times in a row, either hanging up or making a series of strange statements in a faux British accent. (Many of those statements were about the manner and variety of dicks he believes me to be interacting with.)
Meagher, Johnson's attorney, is a patent lawyer in New Jersey, mild-mannered and soft-spoken. He told me in June that he'd met Johnson in person and wholly believed her claims. He sent the following statement to the press Friday morning:
The plaintiff and her counsel in Jane Doe v. Donald J. Trump and Jeffrey E. Epstein (SDNY 1:16-CV-04642) filed today a Notice of Voluntary Dismissal pursuant to F.R.C.P. 41(a)(1)(A)(i) of the Federal Rules of Civil Procedure, without prejudice to refiling the complaint. An additional witness has been identified and her declaration will accompany the new complaint.
G/O Media may get a commission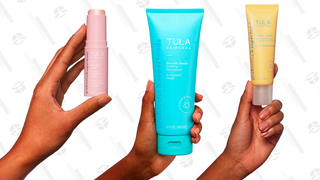 We've asked Meagher why it's necessary to dismiss the complaint and when the new one will be re-filed and will update if we hear back. We also reached out to Al Taylor for comment, and are working on a way to reach Norm Lubow, if they are in fact different people.

Update, October 3:
Courthouse News reports that the lawsuit has been refiled in federal court in Manhattan. The new witness is identified by the pseudonym "Joan Doe." In a one-sentence declaration she says she was told about the allegations in the "1994-1995 school year," and that the plaintiff told her that she was "subject to sexual contact by the Defendants at parties in the New York City during the summer of 1994." The declaration is signed July 23, 2016.
Alan Garten, executive vice president and general counsel for the Trump Organization, told Courthouse News several weeks ago that Doe's allegations "are completely frivolous and appear to be politically motivated."