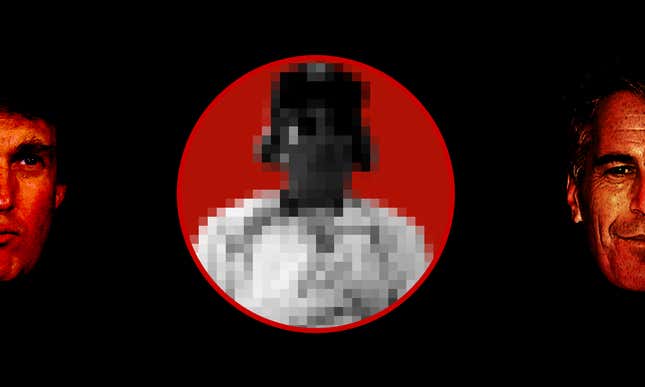 Last month, we told you about a pair of lawsuits filed by someone named Katie Johnson, who claims that Donald Trump raped her when she was 13, at a party hosted by notorious celebrity pedophile Jeffrey Epstein. The claims, as we told you at the time, are being backed by a group of men who have made Johnson difficult, if not impossible, to contact. One of them appears prepared to make some money from the situation.

The key person trying to sell pieces of the Katie Johnson story to Gawker Media called himself Al Taylor in his communications with us. He identified himself as someone who had worked with Inside Edition, and also said he did PR for the wonderful-sounding Erotic Heritage Museum in Las Vegas.
Today, the Guardian's Jon Swaine unearthed compelling evidence that "Taylor" is in fact a former Jerry Springer Show producer named Norm Lubow who has long been accused of (and denied) making outlandish claims about celebrities, sometimes under assumed names. A few of those claims were outlined in a 1998 Variety article:
Earlier this month, a group of former "Springer" guests accused Lubow of staging their fights and encouraging them to fabricate wild stories.

Last Friday, the New York Post reported that Lubow himself made the tabloid TV rounds in 1995 as a drug dealer who claimed to have sold drugs to O.J. Simpson on the night his ex-wife was murdered. Lubow vehemently denied that he was drug dealer "Ron X," just as he has denied coaching "Springer" panelists to lie or brawl.
Swaine says that Lubow also appeared, wearing a fetching purple mask, in Kurt and Courtney, a controversial documentary that suggests Courtney Love maybe paid to have Kurt Cobain murdered:
Also in 1998, Lubow appeared wearing a disguise in the controversial documentary film Kurt and Courtney under the name "Jack Briggs" alongside Bowman, the minor Hollywood promoter whose photograph was later used by "Al Taylor" for television interviews. Bowman said "Briggs" was Lubow.

In the film, director Nick Broomfield said Lubow and Bowman had introduced him to Eldon "El Duce" Hoke, a Seattle-based musician who claimed Courtney Love offered him $50,000 to kill her husband Kurt Cobain, the singer and guitarist in the rock band Nirvana. The allegation about Hoke, which became lore among some Nirvana fans following Cobain's suicide in 1994, was denied by Love.
Taylor adamantly denied to Swaine that he is Lubow. But Swaine writes that Taylor communicated with him using a phone number that has also been used by Lubow, and that a "longtime associate" of Lubow's confirmed that Lubow has used the name "Al Taylor" in the past.
While Taylor told Gawker Media that he had worked with Inside Edition, I could find no evidence that anyone named Al Taylor or Norm Lubow ever worked for the show.
Although we can't be entirely sure it's the same person, a former Jerry Springer producer using the name "Al Taylor" claimed in 2011 that he'd met with the elusive Casey Anthony, a claim reported on skeptically by true-crime host Nancy Grace at the time. According to Inside Edition, Taylor claimed he offered Anthony $1 million for a tell-all interview, which never materialized. At the time, Taylor refused to tell Nancy Grace where he'd met with Anthony:
"Mr. Taylor, you met with her in Palm Springs. Where in Palm Springs?" asked Grace.

"It was a hotel in the Palm Springs area," said Taylor.

"What hotel?" asked Grace.

"I can't say," replied Taylor.

"Why?" asked Grace.

"Because then the media descends on the hotel," said Taylor.
Swaine wrote that Taylor "became threatening" when asked about his identity: "Just be warned: we'll sue you if we don't like what you write. We'll sue your ass, own your ass and own your newspaper's ass as well, punk."
That was an interesting piece of information for me, because Taylor was very unhappy with the story I published about the lawsuits. I learned this after receiving a text message from someone claiming to be Katie Johnson, whom I had been trying to reach with no success for several days as I reported the story. When I called back, "Taylor" answered the phone and threatened to sue for $1 million before inviting me, angrily, to suck his dick.
The text came on June 28, four days after my story ran, from the same phone number listed on a now-dismissed California lawsuit filed by "Katie Johnson."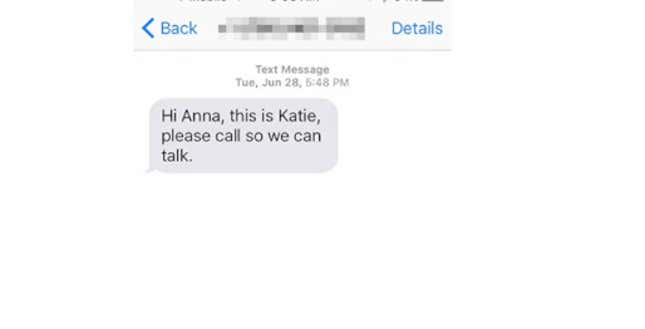 When I called back and realized it was "Taylor," I alerted him that I would be recording the call.
ANNA_ASSHOLE_CALLER_V2.mp4
Taylor falsely accused me of using information from Steve Baer that was off the record (Baer is the conservative mega-donor who's become a major proponent of the Trump rape claims; we spoke on the record on several occasions and he sent me several unsolicited emails that I never agreed to treat as off the record). Taylor also falsely accused me of violating a non-disclosure agreement and getting information from Sam Biddle, a former Gawker Media reporter, by sucking Biddle's dick. (To be clear, I'm not and have never been sexually involved with Biddle and we don't transmit information via oral sex. I don't think that's physically possible.)
As I reported last month, the man representing himself as Al Taylor first reached out to Gawker.com last year; in March Gawker Media entered into a non-disclosure agreement barring the company from reporting on a particular item without the consent of that item's owner. That agreement contained a clause explicitly permitting Gawker Media to report on the item if it obtained the information independently. As my story last month laid out, Steve Baer told me in an on-the-record conversation that he had seen a video, shown to him by Taylor, of Johnson recounting her explosive claims against Trump and Epstein. Shortly thereafter, a tipster who requested anonymity sent me a pixilated version of that video, a small portion of which I published. It has since been posted to YouTube. (To be very clear, we received the information unprompted and independently of anyone with whom Gawker.com entered into an NDA.)
My call with Taylor didn't end pleasantly. "I think you're a piece of shit and you can suck my dick, bitch," he concluded. He then hung up.
Later that night into early the next morning, something unusual happened: I received about 26 calls from a blocked number. The caller hung up as soon as I answered. The calls couldn't be traced, according to my phone company. I received a few more calls from a blocked number the following day before they stopped.
Brandy Zadrozny is a reporter with the Daily Beast who also wrote about the Trump rape lawsuit. She told me recently that she, too, received an angry call from Taylor wrongly accusing her of having divulged off-the-record information. And her conversation with Taylor was also followed by a series of harassing phone calls.
"Same to the blocked number," she told me in a message over Twitter. "About a dozen [calls] each night since the article ran." She, too, spoke to Taylor on the number listed in the California lawsuit as belonging to Katie Johnson.
The attorney for Katie Johnson, Thomas Meagher, told me he's met with her in California in-person and communicated with her via FaceTime. He acknowledged to Swaine that Taylor is "acting as a go-between," but said that any concerns about his credibility shouldn't be used to cast doubt on Johnson herself.

I didn't hear from Taylor again after our conversation on the June 28. We of course don't know for certain if Taylor made the calls to Zadrozny or me, and he did not return a request for comment on this story.
Steve Baer, however, did email me on Thursday, in yet another email marked "OFF THE RECORD" that I did not, at any time, agree to treat as such. In an email sent to me and a few dozen other reporters and political operatives, he wrote that he's never met Taylor and while the guy "drives me nuts" he still believes Katie Johnson's story.
Baer also accidentally revealed that Taylor may be the source of those 26 calls to me.
"Al (or Norm or whoever he is) tells me he thinks you are sleeping with some guy from Gawker who answers the phone at your place," Baer wrote. He was referring to the man I'm dating, who was present at the time the calls started. (I asked him to answer two or three of the 26, to see if that would put a stop to them.)
That said, Baer added magnanimously, he didn't care either way. "You may well be as virginal as Katie says she was when Trump raped her at age 13, or you may be as trampy as Trump, Epstein and Clinton," he explained. "I don't really care who you sleep with if you're actually interested in telling the truth to the world in re: Katie's claims."
Image by Jim Cooke