A South Carolina woman is making headlines after she bravely fought off an attacker that invaded her home and attempted to rape her. The attacker, 16-year-old Antoine Miller, sexually assaulted the 33-year-old woman and threatened to murder her when she didn't yield to his advances. When he tried to shove his tongue in her mouth against her will, however, she fought back, biting the tongue off and leaving it on her kitchen floor as she fled.
The Washington Post reports that Miller's victim, whose identity will remain confidential as she is the victim of sexual assault, was at her home shortly after dawn on October 16 when someone started knocking on her door. She checked to see who was there and found no one. Then the knocking began for a second time. When she went to check the door, no one was there. Then the knocking began again. When the woman opened her door for the third time, Miller was there with a "13-inch serrated knife."
From the Post:
The woman screamed "No" and tried to flee inside her house but the man pushed his way into her house and locked the door behind him. He then tackled the woman and punched her several times in the face.

"Stop fighting and I won't hurt you," the man reportedly told the woman before slinging her over his shoulder and carrying her into the bedroom, according to ABC News 4.
The woman, however, had no intention of giving up. And when the attacker tried to pull down her shorts, she kicked him in the groin.

"Now you have to die," he told her, according to the police report.

The assailant then forced himself on top of her and shoved his tongue in her mouth.
According to the police report filed after the attack, the woman immediately fought back against Miller by going after the most vulnerable target: in this case, it was his tongue. She bit it until she "heard it snap," then, when Miller got off her in pain, she spit his tongue out on her kitchen floor and fled to a nearby gas station. There, she called police, who found her bruised and scratched when they arrived.
Shortly after, Miller was inadvertently turned in by his own mother, who called emergency services to get medical help for her son:
As police began searching for the suspect, they received some unexpected help. Over the radio they heard that a North Charleston woman had called for an ambulance for her son. When asked what was wrong with him, she told the 911 operator that his problem was "not having a tongue," according to the police report.
G/O Media may get a commission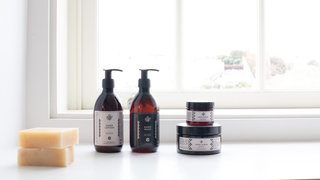 Exfoliate and Hydrate
The Handmade Soap Company
Miller was quickly arrested and charged with "first-degree criminal sexual conduct, first-degree assault, first-degree burglary, possession of a weapon during a violent crime, and first-degree kidnapping." He will be tried as an adult.
This may not have been Miller's first attack. Another woman had called the police the night before when she noticed a man hanging out on her porch after 1 a.m.. She told ABC 4 that she'd screamed at him and called the police but was told that the prowler had been let go when he said he'd been looking for his girlfriend. Police, however, have been reluctant to disclose whether the two incidents are related, ABC 4 reports.
According to the Washington Post, Miller's neighbors defended the teen, telling NBC 2 that he couldn't be held responsible for his actions:
"I don't believe that he is responsible for his actions," an unidentified neighbor told the TV station. "He has a brain disorder that causes him to act on impulse and do things… he's only reading at a second grade level."
---
Contact the author at mark.shrayber@jezebel.com.
Image via Charleston County Detention Center