Here's an excellent argument against laws which prohibit premarital sex. A Nigerian woman is divorcing her new husband after only a week because his penis, which had not previously been seen, was just too big for her vagina, which had already birthed three children.
Ana Gasteyer Satirizes the Girl Boss in 'American Auto'
Aisha Dannupawa, who married Ali Maizinari after the dissolution of her first marriage is now seeking a dissolution from her second. The couple live in the state of Zamfara, which practices Islamic law — meaning that while divorce is legal, having sex before marriage is not and punishable by law. And because sexual compatibility isn't taken into account for marriage, which is a hell of a gamble to take.
Doctors tried to give Dannupawa undisclosed drugs, but they didn't help. As Stacey Ritzen over at Uproxx writes, the drugs didn't take "probably because there's no drugs in existence that can actually make your vagina bigger — if the three children she previously gave birth to hadn't taken care of that already."
Here's Dannupawa's harrowing account, from The New York Post:
As part of tradition before settling in her husband's home, the bride was invited to move into his parents' house. It was when they first had sex that she claimed the trauma began.

"When he came, we had sex but the experience was a nightmare. Instead of enjoying the sex, it turned out to be something else because his penis was too big," she told the court, according to Nigeria's Tribune.

After their first unsuccessful romp, she took medication given to her by her mother. "I told my mother the experience but she told me to endure and that with time, I will be able to cope. She then gave me some drugs,'' she said to Nigerian media.
G/O Media may get a commission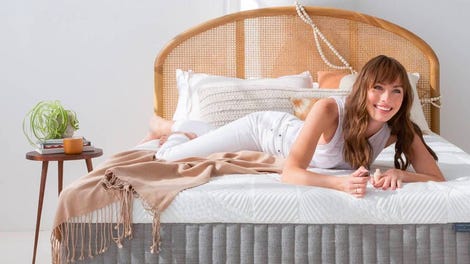 Sleep Sale
Sleep Sale - Brentwood Home
I know this should be even a little funny, but it really isn't. The poor people in this relationship are probably both heartbroken and now single. There's nothing that can be done for either and, to his credit Ali is totally willing to grant his new wife a divorce, provided she pay back her dowry and all the money he spent on her during the courtship. Which is still totally fucked, because Dannupawa really gets the short end of the stick in this agreement (no pun intended).
Here's hoping that the next man Dannupawa is with either sends her his measurements or, and I hate to say it, provides a dick pic. That's legal, right? It should be!
Image via Shutterstock