A 55-year-old woman in Spain died after receiving bee sting therapy, or apitherapy, according to an article in the Journal of Investigational Allergology and Clinical Immunology. It's the first reported death for the therapy, which has been promoted by Gwyneth Paltrow and Goop.

Ana Gasteyer Satirizes the Girl Boss in 'American Auto'
The article's authors, P. Vazquez-Revuelta and R. Madrigal-Burgaleta, write that proof of the therapy's safety and benefits are "limited" and "scarce," and that it has the potential to be dangerous.
"In sensitized persons, venom compounds can act as allergens, causing the release of mast-cell mediators and a spectrum of allergic reactions that can range from mild, local swelling to severe systemic reactions, anaphylactic shock, or even death. Furthermore, repeated exposure to the allergen was found to carry a greater risk of severe allergic reactions than in the general population." In other words, repeated use of the therapy could sensitize an individual to bee stings, making it more dangerous the more you do it.
Although the article was just published, the death actually took place three years ago. The woman in question had reportedly been receiving apitherapy every four weeks for two years, to "improve muscular contractures and stress," and had no record of other diseases or risk factors. During one session she began wheezing and lost consciousness; personnel at the clinic gave her an anti-inflammatory drug called methylprednisolone while waiting for an ambulance, which took 30 minutes to arrive, and then was taken to a hospital, where she died several weeks later.
G/O Media may get a commission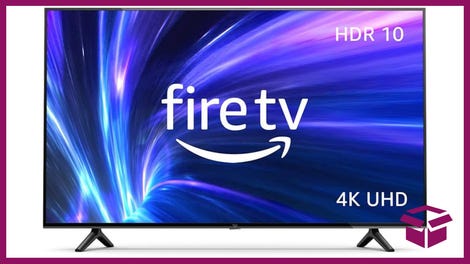 42% Off
Amazon Fire TV 50" 4K Smart TV
In an interview with BuzzFeed, Dr. Dean Mitchell, a clinical assistant professor at the Touro College of Osteopathic Medicine in New York stressed that any clinic that performs apitherapy should be equipped to handle potential emergencies. "The practitioner doing this therapy should absolutely have had epinephrine in the office—as studies show, time is of the essence in treating anaphylaxis." Additionally, patients should be tested beforehand to determine sensitivity to bee stings.
Paltrow has promoted the therapy in several venues—on Goop, where she wrote that she received it for an old injury and it "disappeared," and in an interview with the New York Times in 2016.
"I've been stung by bees," she said. "It's a thousands of years old treatment called apitherapy. People use it to get rid of inflammation and scarring. It's actually pretty incredible if you research it. But, man, it's painful."
Goop has garnered a reputation for peddling far-out, unproven, and often idiotic practices, like "earthing" and shoving a rock up your vagina, in pursuit of ultimate health. One speaker at its annual In Goop Health Summit notably claimed that AIDS treatment was actually responsible for deaths, that GMOs and bread cause depression, and encouraged fans to throw out their antidepressant medications. NASA recently called out Goop for promoting stickers made of "space suit material" that could allegedly "rebalance the energy frequency in our bodies." (Stickers cannot do that, whatever that is.) In 2017, an industry watchdog called Truth in Advertising (TINA) found 50 instances in which Goop deceptively claimed "either expressly or implicitly, that its products (or those it promotes) can treat, cure, prevent, alleviate the symptoms of, or reduce the risk of developing a number of ailments."
In a 2017 interview with Jimmy Kimmel, after being asked about some of Goop's promoted activities, Paltrow laughingly came clean: "I don't know what the fuck we talk about!"