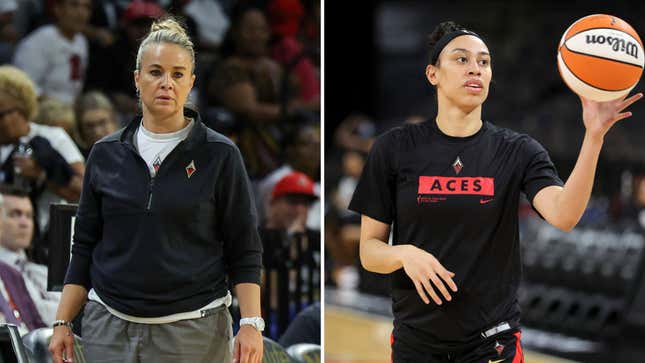 Las Vegas Aces coach Becky Hammon will be suspended without pay for two games for violating the WNBA's "league and team Respect in the Workplace policies," following an investigation into her alleged pregnancy discrimination against a player, the WNBA announced on Tuesday.

Taylor Lautner Doesn't Even Remember Saying 'Bella! Where the Hell Have You Been Loca?'
Hammon's violation stems from comments she made about player Dearica Hamby, then a forward for the Aces, being pregnant. Hamby wrote in an extensive statement posted to Instagram in January: "I gave everything I had, and up until the disgusting comments that were made to me, I fought to stay here and tried to be amicable." She has since been traded to the Los Angeles Sparks.
Hamby did not put anyone's name in the comments in her statement, but she said the following statements were made to her:
"I was then told that I 'was not taking precautions to not get pregnant.'"
"I was being traded because 'I wouldn't be ready and we need bodies.'"
"Only to be inaccurately told that 'I was not taking my workouts seriously."
"You're getting moved regardless and It's [sic] best for your career that you move on from the Aces."
Hamby at one point signed a two-year extension deal with the Aces and was accused of lying about her pregnancy. "This is false. I was told that I was 'a question mark' and that it was said that I said I would 'get pregnant again' and there was a concern for my level of commitment to the team," she wrote.
Hamby brought her initial complaint forward in January. "Being traded is a part of the business," Hamby wrote. "Being lied to, bullied, manipulated, and discriminated against is not. I have had my character and work ethic attacked."
The league's investigation was comprised of "interviews with 33 people and a review of numerous texts, emails and other documents," per the release.
WNBA Commissioner Cathy Engelbert said in a statement that the league must "uphold the values of integrity and fairness" to "create a level playing field" in the league, adding, "The Aces failed to adhere to league rules and regulations and have been disciplined accordingly. We are also disheartened by the violation of our Respect in the Workplace policies and remain committed to ensuring that enhanced training is conducted and standards are followed across all WNBA teams."
The WNBPA, the players' union, is unhappy with the league's punishments, according to a statement released on Tuesday. "The League had an opportunity to send a clear message that it abides by and protects the provisions of the CBA, particularly those that we were most proud of — the provisions meant to support player parents," the union's statement reads. "Today's decision regarding penalties, however, misses the mark."

The Aces are the defending champions and will also lose their first-round draft pick in 2025. This is the first time this has been done in league history, according to the players' union. The team was found to be made "promises of impermissible benefits" under the CBA when negotiating Hamby's contract extension, the league said. As Hamby put in her statement: "I was promised things to entice me to sign my contract extension that were not followed through on."
The Aces were also subject to other questionable conduct charges at this time. "During the course of the investigation, several individuals raised additional concerns about the conduct of the Aces during the most recent free agency period. The investigation was not able to substantiate any of those additional concerns," the league said.
The WNBA season kicks off on Friday, and the Aces' first game is Saturday afternoon. Jezebel has reached out to Hammon and will update this story if we hear back.