Actress Amy Brenneman is one of the many women who has shared her abortion story in supporting brief filed with the Supreme Court. In the brief, Brennan writes about her 1986 abortion, which she had while she was still a junior at Harvard. Brenneman's brief reads:

She got pregnant by her long-term boyfriend even though they used birth control. They had no doubt that an abortion was the right choice. Amy felt great relief after it was over. She remembers turning on the television and finding a group of politicians – all men – debating whether women should have the right to an abortion. How strange, she thought, that they could speak so confidently without addressing the enormous impact of an unwanted pregnancy on a woman.
The purpose of the briefs is to sway Justice Anthony Kennedy who, according to the New York Times, "holds the crucial vote in abortion cases." Kennedy is largely considered to be the deciding vote in Whole Woman's Health vs. Hellerstedt, a case challenging Texas' TRAP laws that SCOTUS will hear tomorrow.
The briefs include testimonies from a number of women, from scientists to marketing executives, all of who argue that their abortions allowed them to pursue their careers and plan for families when the time was right.
Anne Fowler, an Episcopal priest, was already a single mother working her way through divinity school when she learned of her accidental second pregnancy. Fowler's brief states:
Already solely responsible for her daughter, Anne knew she could not complete Divinity School and pursue a career as a priest if she did not have an abortion. She has never regretted her decision and is grateful that she did not have to travel far, which would have caused her additional stress and financial hardship while she cared for her young daughter.
G/O Media may get a commission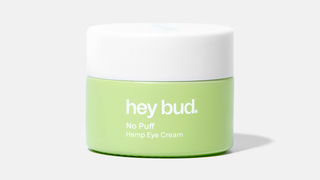 15% off
Hey Bud - No Puff Hemp Eye Cream
Each of the briefs emphasizes that the women were unharmed by their decision to have any abortion and have no regret about the decision. The Times reports that this is purposeful, a direct response to the "uninformed paternalism," of the majority decision in Gonzalez vs. Carhart, the case the upheld the 2003 Partial-Birth Abortion Ban Act. "It seems unexceptional to conclude some women come to regret their choice to abort the infant life they once created and sustained," Kennedy wrote in the decision.
Whether or not the briefs will have any effect is anyone's guess. The stories largely tell women what we already know about abortion; that the decision is, more often than not, born of practical matters. The vast majority of women who have an abortion already have children and the choice is largely an economic one; despite what anti-choice rhetoric often implies, abortion is a rationally made decision and few women regret the choice. But as Kennedy's decision revealed, the idea that women are making informed choices, best for their careers and their families, is still an apparently unbelievable concept.
"[These briefs] are not addressing any legal principle but are trying to get inside Justice Kennedy's head that women are moral agents who make decisions and that regret is not something that should be part of his thinking," law professor David Cohen told the Times. "It was clearly part of his thinking in 2007."
Hopefully, Kennedy will be swayed. TRAP laws have virtually decimated abortion providers, five states currently only have one operating clinic and nationally, clinics continue to close at a record pace.
Contact the author at stassa.edwards@jezebel.com.
Image via AP.