The Supreme Court is currently considering the case of abortion provider Whole Woman's Health, which is arguing that HB 2, Texas' mammoth anti-abortion bill, is unconstitutional. The outcome of the case could determine abortion access for a generation, and not just in Texas. Monday evening, a group of cities including New York, San Francisco, and Baltimore filed a brief with the court to outline how Texas' proposed laws would hurt them too.
The coalition of cities and municipalities—New York, Baltimore, Boston, Burlington, Dayton, Madison, San Francisco and Travis County, Texas— filed what's known as an amicus ("friend of the court") brief. It argues that if HB 2 goes into effect, cities and states without restrictive abortion laws will see an influx of people needing abortion care, filling up their clinics and hospitals and delaying reproductive healthcare access for the state's own residents.
That's not an unfounded fear; the reason New York is leading this coalition is because the city has been here before.
"Before Roe V. Wade, New York was one of the few jurisdictions in the country where women could obtain a safe and legal abortion," says New York City Hall spokesperson Monica Klein. "Over the course of two years, hundreds of thousands of women came to the city from across the country to get the kinds of services they couldn't get in their home state."
In 1970, New York state became one of the first places to allow abortions up to 24 weeks, or at any time to protect the woman's life. Between then and when Roe v. Wade passed in 1973, the brief says, some 350,000 women traveled from all over the country to obtain abortions in New York, equal to the entire female population of Vermont.
G/O Media may get a commission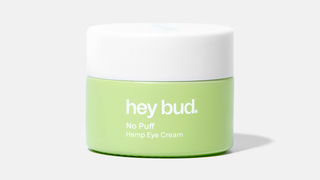 15% off
Hey Bud - No Puff Hemp Eye Cream
In those years, the brief adds, "nine out of every ten abortions obtained by Texan women were performed not in Texas, but in New York." Overall, six out of every ten abortions in New York was being provided to a non-New York resident. The situation, the brief writes, "strained New York City's resources and endangered women." A backlog of around six weeks quickly grew in hospitals with the highest demand, and many non-residents soon faced "later, more complicated" abortions than New York residents.
And those are just the people who were able to make the trip, the brief adds. Many others, largely women of color, "were left to choose between carrying a child to term and and resorting to clandestine abortions or self-help measures like coat hangers, knitting needles and the like."
The same scenario is playing itself out again; a survey of Texas women this year found that an estimated 100,000 have attempted to perform their own abortions. And if HB 2 goes into effect, the cities argue, the situation will grow even worse, with even more people flocking to the shrinking number of places where they can find abortion care:
Even if women are not deterred or prevented from seeking abortions by the absence of nearby clinics, the burden of restrictive state abortion laws is not geographically confined. The spill-over harms extend to cities and counties where clinics remain open — both in states that have enacted restrictive abortion laws and in neighbouring states without similar restrictions. An influx of women seeking time-sensitive abortion services at a diminishing number of clinics and hospitals will jeopardize timely access to vital reproductive healthcare to millions of amici's residents.
The "practical result" if HB 2 goes into effect will be disastrous, the brief concludes, and will only embolden other states wanting to pass the same restrictions:
Sanctioning laws like H.B.2 will provide a blueprint for states to reduce abortion access in America to isolated pockets of reproductive autonomy where abortion services remain available, as in amici's cities and counties, that are potentially out of reach for the vast majority of women living elsewhere. Women's right to reproductive freedom should not depend on the happenstance of geography or the ability to travel hundreds of miles to obtain safe and legal abortion services.
The full brief is below.

---
WWH v Cole Amicus Brief New York et. al
Contact the author at anna.merlan@jezebel.com.
Public PGP key
PGP fingerprint: 67B5 5767 9D6F 652E 8EFD 76F5 3CF0 DAF2 79E5 1FB6
Texans rally against abortion restrictions at the Texas State Capitol, Thursday, Feb. 26, 2015, in Austin, Texas. Image via AP.