In theory, a talk show should be easy. You create a set, you get a good booker, and you talk. The setup is always the same: jokes during late night, roundtable discussions of the latest gossip in news during the day.

But in reality, launching a reality show is as hard as launching any other pilot. Khloe Kardashian made this clear this week, after just three months of producing her weekly nighttime talk show Kocktails with Khloe on FYI. Despite a relatively inventive twist on a basic format, which got record-breaking ratings (for the network it was on, at least), reports indicate Khloe pulled the plug on her own show because she wanted to work on her many other business ventures. The last episode will air April 20, and will feature Khloe's sister Kim, her brother-in-law, plus family friends John Legend and Chrissy Teigen.
Page Six reports that, behind the scenes, things were more complicated than they appear; a source said the show was "chaos" and that Khloe wasn't used to not being able to control everything, the way she does on E!'s Keeping Up With the Kardashians and its many spin-offs, which she and her family executive produce.
G/O Media may get a commission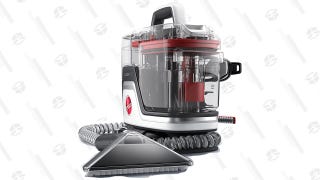 Save $10
Hoover CleanSlate Plus Carpet & Upholstery Cleaner
You'd think Khloe would have learned from her mother's equally short-lived attempt at the talk format two years ago: these shows are cheap and seemingly simple—you just talk! It's like a podcast but with video!—which makes them a dime a dozen, which makes it that much harder to do them well and break the mold. The biggest recent success is probably Andy Cohen's Watch What Happens Live!, which has capitalized on the popularity of Bravo's soapy shows by plying low- and high-end guests with alcohol and dirty games. But even stalwarts of the genre, in daytime and at night, have have struggled to find ways to keep viewers coming back, relying on next-day video traffic to keep interest up, a problem new shows with big names have as well.
"I'm lucky that I've been able to invite fans into my life and home on a weekly basis and this show will give me an opportunity to continue to do that with new and exciting guests," Khloe said when the show was announced. "Being an executive producer allows me the opportunity to create original content and I can't wait to show my fans what we have in store on Kocktails with Khloé."
We can assume that Khloe's show, like Kris's before her, wasn't worth keeping up because she's already got lots of other more easily manageable platforms to bring her fans into her lives, platforms that require much less work and over which she has far more control. There was never a chance Kocktails with Khloe was going to do that more consistently than Khloe's Instagram and Twitter and app do. On a larger level, the show was never going to become about more than her, which means it was probably never going to gain an audience bigger than her fans (there's a reason her past attempts at radio also didn't go too far). Besides, why bother—she knows what she's good at: she's got a set of her own reality shows that are much more easily controlled. Plus, there's a new one on the way.
---
Image via FYI.